Paul Gauguin made this drawing of three Breton girls dancing in the round as a preparatory study for the large figure painting Breton Girls Dancing, Pont-Aven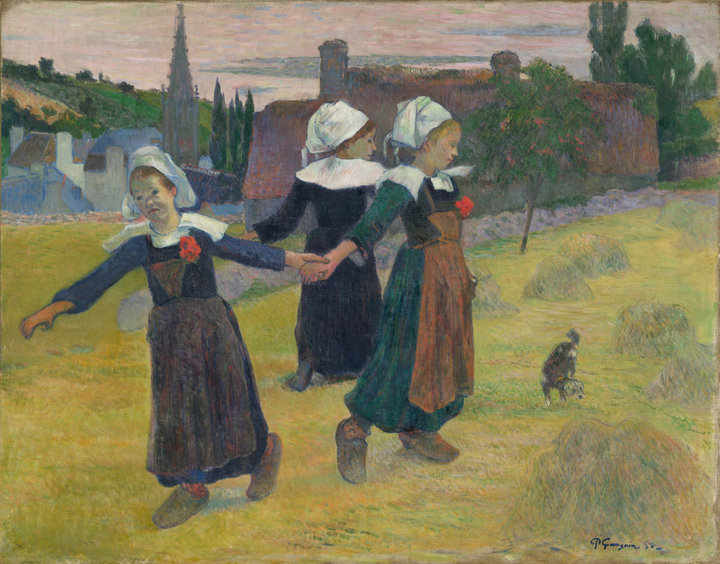 Paul Gauguin, Breton Girls Dancing, Pont-Aven, 1888, oil on canvas, 73 × 92.7 cm, National Gallery of Art, Washington, DC, collection of Mr and Mrs Paul Mellon. Photo: Courtesy National Gallery of Art, Washington. This canvas, which originated in June 1888, is considered one of the first ambitious figure pieces that Gauguin produced that year.See Paul Gauguin, letter to Theo van Gogh, c. 15–18 June 1888, in Victor Merlhès (ed.), Correspondance de Paul Gauguin: documents, témoignages: tome premier, 1873–1888, Paris 1984, no. 151: 'I'm busy making a Breton gavotte danced by 3 little girls among the hay.' ('Je suis en train de faire une gavotte bretonne dansée par 3 petites filles au milieu des foins.') For most of the spring of 1888 he was plagued by health problems that left him weakened and suffering from a lack of energy and motivation. He produced little, apart from a series of rather lacklustre paintings.Daniel Wildenstein, Sylvie Crussard and Martine Heudron, Gauguin: premier itinéraire d'un sauvage: catalogue de l'œuvre peint (1873–1888), 2 vols., Milan 2001, vol. 2, pp. 365–67. As spring neared its end, however, Gauguin regained his strength and inspiration and began to work towards making large paintings with numerous figures – mainly children – embedded in the landscape of Pont-Aven. In addition to Breton Girls Dancing, he painted Breton Boys Bathing (1888, Hamburger Kunsthalle) and Young Wrestlers (1888, private collection).Paul Gauguin, letter to Vincent van Gogh, c. 22 July 1888 [646]: 'I'm beginning to recover the full use of my faculties: my illness had weakened me, and in my most recent studies I have, I think, gone beyond what I've been doing up to now.' ('Je commence à reprendre la liberté dans mes facultés: ma maladie m'avait affaibli et dans mes dernieres [sic] études j'ai, je crois, depassé ce que j'ai fait jusqu'à present.')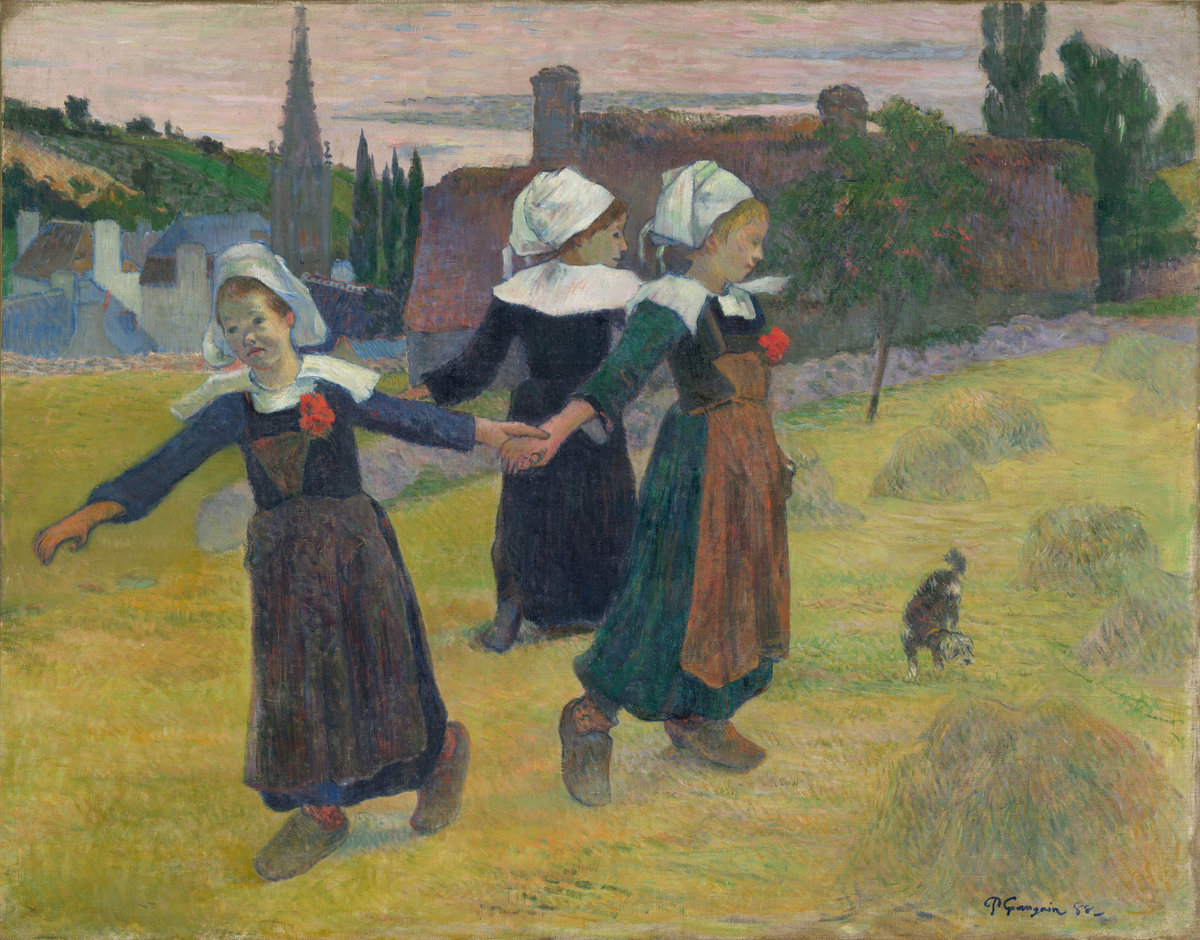 This way and that
Breton Girls Dancing, Pont-Aven depicts three girls dancing a gavotte, as Gauguin himself called it.See n. 1. Gavotte, however, is a collective name for French folk dancing, and in Brittany every region has its own dance. In Pont-Aven, for example, the gavotte de l'Aven was, and still is, the local dance, in which two or more people join hands to form a loose chain.François Coulon and Mélanie Péroux, La ronde des petites bretonnes: une évocation de l'art de Pont-Aven autour du chef-d'œuvre de Washington, exh. cat., Rennes (Musée des Beaux-Arts de Rennes) 1996, p. 13. The pose of the girls in Gauguin's work makes it quite likely that they are dancing this particular gavotte.
Gauguin must have observed this dance in Pont-Aven, where he had been staying since February 1888.Merlhès 1984, p. 427, n. 239. As with earlier ambitious figure paintings, such as Breton Shepherdesses (1886, Neue Pinakothek, Munich) and The Mango Trees, Martinique, Gauguin explored his motif in fairly detailed figure studies that he most likely drew from life. In the case of Breton Girls Dancing, Pont-Aven, there is not just the drawing in the Van Gogh Museum but also Study for Breton Girls Dancing, Pont-Aven in the Morgan Library in New York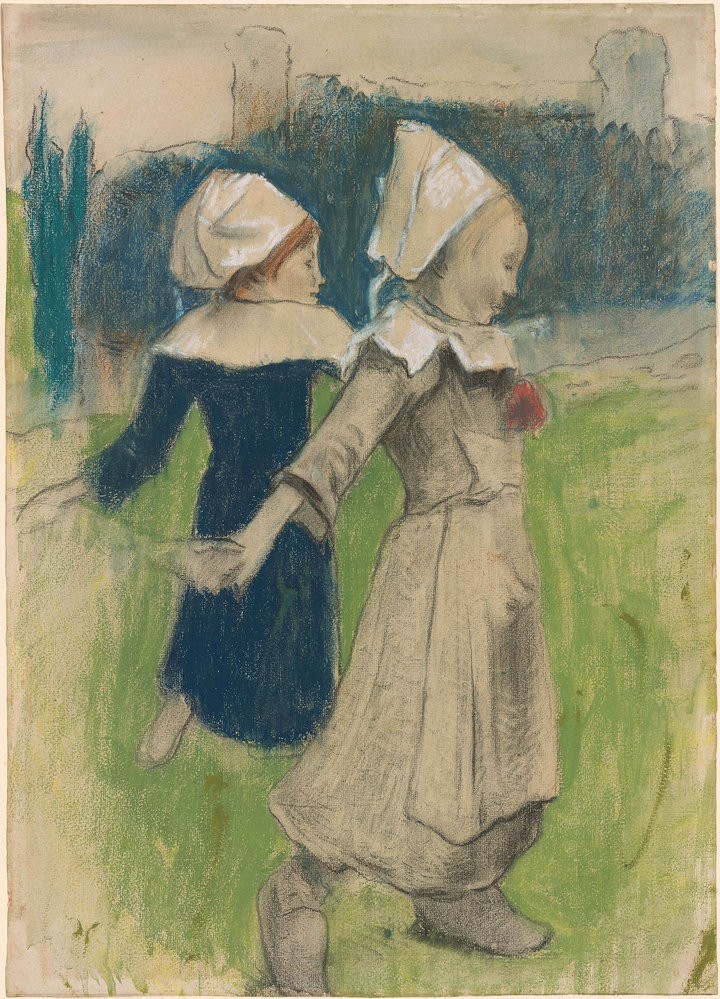 Paul Gauguin, Study for Breton Girls Dancing, Pont-Aven, 1888, pastel, chalk and transparent and opaque watercolour on paper, 58.4 × 41.9 cm, The Morgan Library, New York, Thaw Collection. In this second drawing, the two figures at right are portrayed full-length against a first exploration of the background; in the study in the Van Gogh Museum, the focus is on bust-length portrayals of all three girls. Compared with the final painting, the figure at left in the drawing in the Van Gogh Museum is positioned closer to the other girls. This created compositional problems for Gauguin, as evidenced by the unconvincing right arm of the rightmost girl. Because the outstretched left arm of the leftmost girl comes too close to the right arm of the rightmost girl, there was no longer any room to draw the latter's right arm, which resulted in an awkward, unresolved area in which a small hand appears in the wrong place. Gauguin probably made the Morgan Library drawing in order to take another look at the placing of the girl at right, now allowing her arm to extend so that her hand reaches that of the girl at left, who is not visible in this drawing. Gauguin must have been satisfied with this solution because he adopted it as such in the painting. It can therefore be assumed that the drawing in the Van Gogh Museum is a first exploration of the motif that Gauguin studied again in the work now in the Morgan Library.
Material and technique
Study for the painting Breton Girls Dancing, Pont-Aven was laid in with black chalk on paper. Gauguin also used this medium to indicate the shaded passages, an effect that is clearly visible in the face of the figure at left. At this early stage, moreover, Gauguin provided the sheet with colour indications, writing 'Vert' (green), for example, on the pinafore of the girl at right. The coloured chalk was applied later, as is evident from the fact that it often runs over the black lines.With thanks to Nico Lingbeek, paper conservator Van Gogh Museum, 16 August 2019. The same procedure appears to have been used for the drawing in the Morgan Library. Furthermore, both drawings display many of the same colours.
By colouring in his monochrome studies, Gauguin elevated them to the status of independent works of art. He may well have viewed this as a means of putting less expensive works on the market.Vojtěch Jirat-Wasiutyński, 'Decorative Fragments: Paul Gauguin's Presentation of His Own Drawings', in Nancy Bell (ed.), Historic Framing and Presentation of Watercolours, Drawings and Prints, Worcester 1997, p. 51. He had sold very few paintings, after all, and coloured drawings might prove more marketable.
Deliberately marring a sheet
The fact that Study for the painting Breton Girls Dancing, Pont-Aven is cut out and deliberately torn at the edges must be seen as part of Gauguin's efforts to work up preparatory drawings into fully fledged works of art. The blue chalk clearly runs up to the edges of the work, which means that he marred the sheet after completing it. His oeuvre contains a number of drawings whose form he altered. Gauguin probably began to do this as early as 1887, with Breton Bather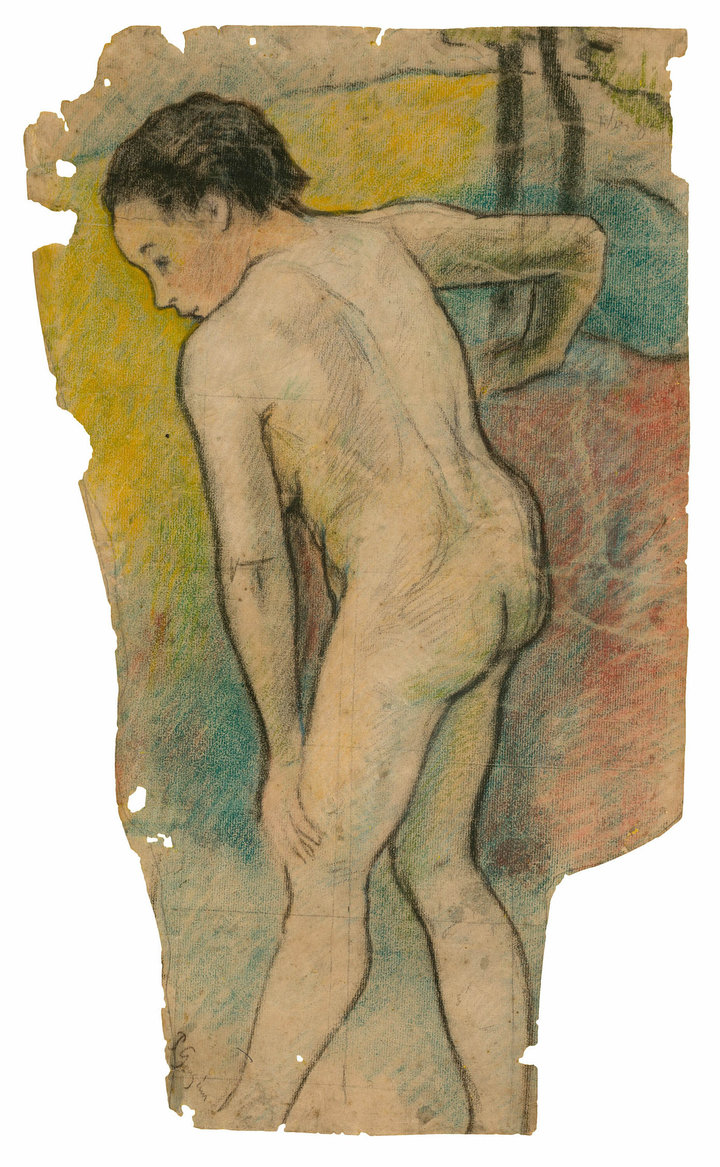 Paul Gauguin, Breton Bather, 1886–87, black chalk and pastel on paper, 58.5 × 35 cm, Art Institute of Chicago, gift of Mrs Charles B. Goodspeed, and continued this practice with both Study of a Martinican Woman and Study for the painting Breton Girls Dancing, Pont-Aven. In Tahiti he likewise tore the edges of several drawings, one being his study for Te nave nave fenua (The Delightful Land)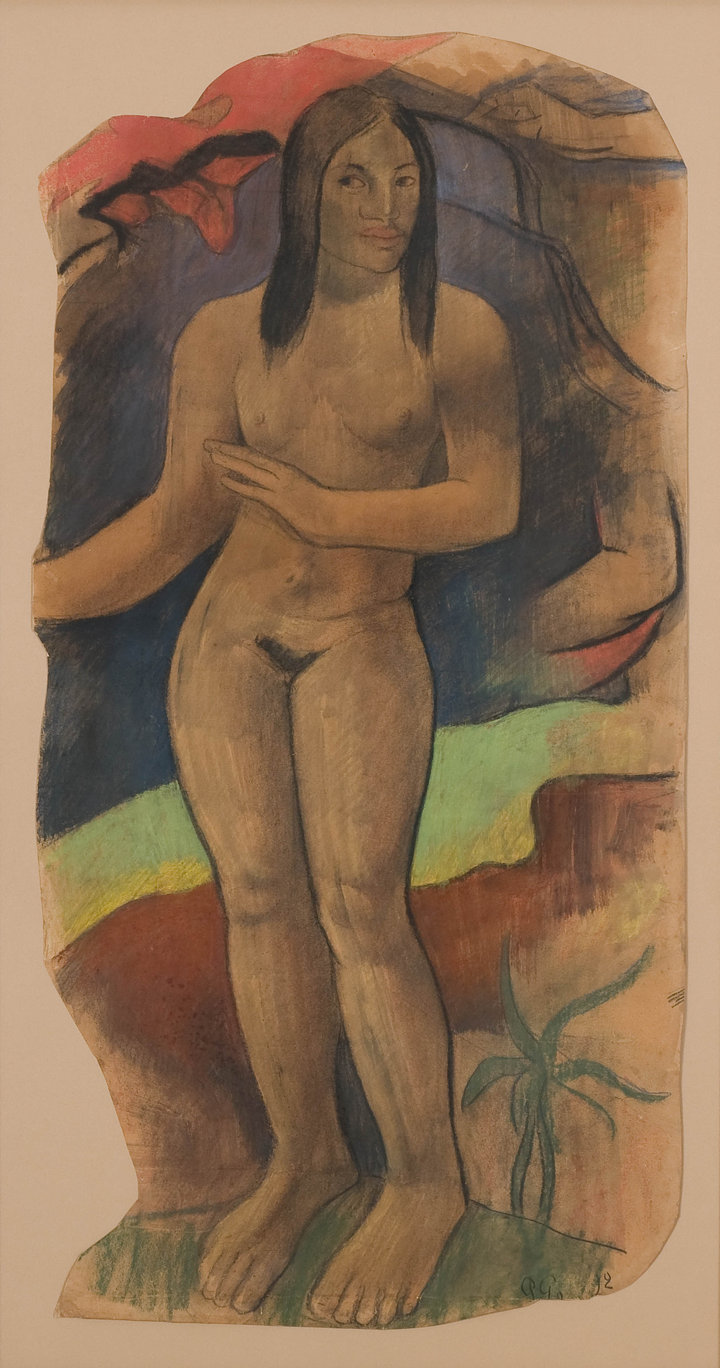 Paul Gauguin, Study for Te nave nave fenua (The Delightful Land), 1892/1894, charcoal and pastel on paper, 94 × 47.6 cm, Des Moines Art Center Permanent Collections, gift of John and Elizabeth Bates Cowles. Photo: Rich Sanders, Des Moines.
By marring his drawings, Gauguin made them resemble the remnants of a work that, in its pristine state, had had a much grander appearance – analogous to the ruins of temples of classical antiquity.Ibid., p. 54. These drawings with torn edges thus evoke comparisons with ancient, 'primitive' civilizations, with which Gauguin was inclined to associate his artistry.
Gauguin gave this cut-out drawing, as well as the modified sheet containing Study of a Martinican Woman, to Theo van Gogh (1857–1891), as compensation for the 50 francs Theo had given him in mid-June 1888.Paul Gauguin, letter to Theo van Gogh c. 15 June 1888, in Douglas Cooper (ed.), Paul Gauguin: 45 lettres à Vincent, Théo et Jo van Gogh: collection Rijksmuseum Vincent van Gogh, Amsterdam, The Hague & Lausanne 1983, no. 3: 'I thank you for sending 50 francs and I'm embarrassed to reply to this and I can only wait to offer you something. When I'm back, you may choose for yourself.' ('Je vous remercie de votre envoi de 50f et suis embarrassé pour y répondre et je ne puis qu'attendre pour vous offrir quelque chose. Quand je serai de retour vous choisirez vous-même.') Theo never had the opportunity to choose something himself, and in the 'Carnet Huyghe' (p. 225) Gauguin mentions that he had given dessins (drawings) in return for the 50 francs he had received from Theo: one was Study for the painting Breton Girls Dancing, Pont-Aven and the other was Study of a Martinican Woman. See the 'Carnet Huyghe', p. 225, The Israel Museum, Jerusalem. The 'Carnet Huyghe' is the sketchbook that Paul Gauguin had with him when he was staying with Van Gogh in Arles. In 1952 it was published by René Huyghe as a facsimile under the title Le Carnet de Paul Gauguin. Ever since the Van Gogh brothers had bought The Mango Trees, Martinique for their personal collection in December 1887, Theo had acted as Gauguin's dealer.See John Rewald, 'Theo van Gogh, Goupil and the Impressionists', Gazette des Beaux Arts (January–February 1973), pp. 16–19. The 50 francs had come from Theo's own pocket, so the drawings Gauguin gave him in return ended up in the personal collection of the Van Gogh brothers. In the spring of 1888, Theo exhibited a number of works by Gauguin at Boussod, Valadon & Cie's branch in Montmartre, and Vincent did his best to praise the Martinican painting Tropical Conversation (1887, private collection) to his Australian painter friend John Peter Russell (1858–1930).See the Introductory Essay: The Genesis of the Collection of Art Assembled by Theo and Vincent van Gogh. As regards Vincent's praise of Gauguin's work in a letter to John Peter Russell, see Vincent van Gogh, letter to John Peter Russell, 17 June 1888 [627]. Both brothers were strategically important to Gauguin, so it was in his interest to win them over to his art and his world of ideas. After all, his image as a 'primitive, savage' painter had to be propagated not only by himself but also by those around him. In the letters he exchanged with Vincent van Gogh, Gauguin had already set forth his creed, knowing that his words would make their way to Theo.See the letters from Gauguin to Van Gogh of c. 22 July 1888 [646] and 8 September 1888 [675]. His determination to ensure that Theo received two torn-edged drawings with a 'primitive' appearance must be seen in this light.In fact, Gauguin later wrote to Theo: 'You know that I am of Indian [and] Incan descent, and everything I make is affected by that.' ('Vous savez que j'ai un fond de naissance Indien, Incas, et tout ce que je fais s'en ressent.') Paul Gauguin, letter to Theo van Gogh, 20 or 21 November 1889, in Cooper 1983, no. 22.
A misunderstanding
It was a long time, however, before Theo van Gogh took possession of these drawings. Gauguin had intended to have them brought from Pont-Aven by Emile Bernard's mother, who visited her son there in August 1888 and returned to Paris afterwards. But Bernard's mother mistakenly thought that the drawings were a gift to her, and in late November Gauguin was forced to write to Bernard, instructing him to make sure that Theo received the drawings. Not wanting to appear stingy, however, he promised Bernard's mother a sculpture by way of compensation.Paul Gauguin, letter to Emile Bernard, 3rd or 4th week of November 1888, in Merlhès 1984, no. 182: 'I'm really embarrassed to reply regarding the two drawings that your mother has been keeping. They are not mine but belong to Van Gogh, who sent me 50 francs this summer for a drawing. They have to be handed over to him. I don't understand how your mother could have interpreted as a present the task with which she was entrusted. But I would not wish to be thought stingy and here is what I propose: at Goupil's there is a small pot, matte, with a decoration of a bird and blue-green background.' ('Je suis bien embarrasse de vous répondre pour les deux dessins que votre mère a conservés. Ils ne sont pas à moi mais sont à Van Gogh qui m'avait envoyé 50f cet été pour un dessin. Ils sont donc à lui remettre. Je ne comprends pas que votre mère ait pu interpréter dans le sens d'un cadeau la commission dont elle s'était chargée. Je ne voudrais pas cependant passer pour un avare et voilà ce que je propose: il y a chez Goupil un petit pot mat avec une décoration d'oiseau et fond bleu vert.') In Christopher Gray, Sculpture and Ceramics of Paul Gauguin, Baltimore 1963, there is not a single vase that corresponds exactly to this description. Fred Leeman identifies this object as Vase in the Form of a Tropical Plant with Bird and Deity (1887–88, Art Institute of Chicago). See Fred Leeman, Emile Bernard (1868–1941), Paris 2013, p. 110. According to Gauguin, this would be to her advantage, because the sculpture was 'something rather savage but which is more an expression of myself than a drawing of little girls'.Paul Gauguin, letter to Emile Bernard, 3rd or 4th week of November 1888, in Merlhès 1984, no. 182: 'une chose bien sauvage mais qui est plus l'expression de moi-même que le dessin de petites filles'. Even so, the fact that Gauguin made such an effort to ensure that Theo got the drawings says a great deal.
Gauguin kept the Morgan Library drawing so that he could use it again for other works, which was his customary practice. Indeed, the two girls recur, albeit in reverse, in one of the zincographs of the so-called Volpini Suite and in a design for a fan (on the verso of Ondine III) (
Paul Gauguin, Joys of Brittany (Joies de Bretagne), from the Volpini Suite, 1889, zincograph in black on yellow wove paper, 49.8 × 64.8 cm, Van Gogh Museum, Amsterdam (Vincent van Gogh Foundation) and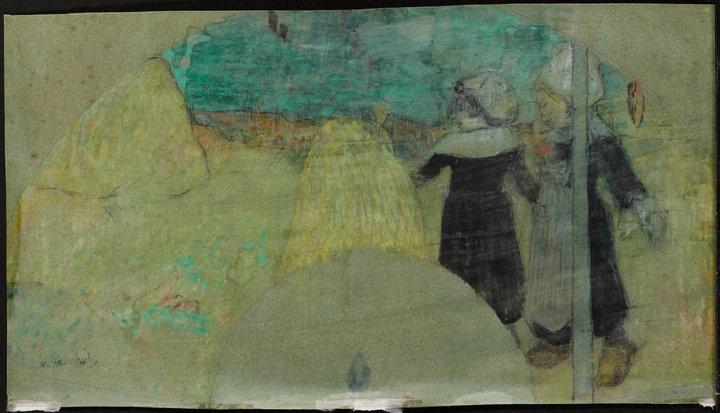 Paul Gauguin, Study for Joys of Brittany, 1889, opaque and transparent watercolour, heightened with pastel, on paper, 12 × 38 cm, private collection).
The verso
The verso of the sheet containing Study for the painting Breton Girls Dancing, Pont-Aven displays a fragment of a flower still life drawn in coloured chalk. This still life must have originated before Gauguin began his study for Breton Girls Dancing, Pont-Aven, considering that the drawing was largely sacrificed when the edges of the sheet were deliberately torn. This sketch possibly served as a preparatory study for the painting Bouquet of Flowers against the Sea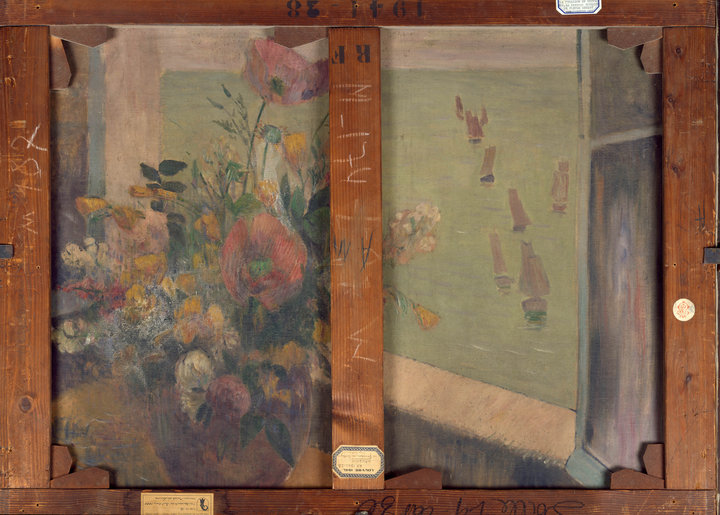 Paul Gauguin, Bouquet of Flowers against the Sea, 1888, oil on canvas, 73 × 92 cm, Musée d'Orsay, Paris. Photo: (C) RMN-Grand Palais (musée d'Orsay) / Jean Schormans, likewise made in 1888; it is chiefly the red flower with hanging leaves at the bottom of the bouquet that is similar in both study and painting.Just as he did with the sheet containing the preparatory study, Gauguin used the back of the canvas of Bouquet of Flowers against the Sea to paint Haymaking (La Fenaison) (1888, Musée d'Orsay, Paris). The poppies in the painted still life suggest that the work dates from early summer, when these flowers bloom. Gauguin probably took up the sheet again rather soon in order to use the back for his study for Breton Girls Dancing, Pont-Aven, given that he made this painting in June 1888.See Paul Gauguin, letter to Theo van Gogh, c. 15–18 June 1888, in Merlhès 1984, no. 151.
Joost van der Hoeven
March 2023