Around 11 September 1888, Vincent van Gogh (1853–1890) sent a letter from Arles to Paul Gauguin in Pont-Aven, asking him and Emile Bernard (1868–1941) to paint portraits of each other and send them to him.Vincent van Gogh, letter to Theo van Gogh, c. 11 September 1888 [680]: 'My letter to Gauguin has gone off; I asked them for an exchange if they wish; I would so much like to have here Gauguin's portrait of Bernard and Bernard's of Gauguin.' ('Ma lettre à Gauguin est partie, je leur ai demandé un échange s'ils veulent, j'aimerais tant avoir ici le portrait de Bernard par Gauguin et celui de Gauguin par Bernard.') The letter to Gauguin that Van Gogh describes has not been preserved. Van Gogh promised to reciprocate with works of his own. Van Gogh's letter came during an inspiration-filled period for Gauguin and Bernard, during which, together with Charles Laval (1862–1894), they were experimenting intensively with style and technique. In September, Van Gogh – who for months had been trying to persuade Gauguin to come to Arles – began to fear that the fruitful collaboration between the artists in Pont-Aven would undo his efforts.Ibid.: 'I'm very pleased to have finished my letter to Gauguin without saying that it bewilders me somewhat that he should hesitate between going to stay with Laval or with me.' ('Je suis bien aise d'avoir fini ma lettre à Gauguin sans dire que cela me desoriente un peu qu'il doit hésiter à aller rester avec Laval ou avec moi.') Moreover, he could not suppress his feelings of loneliness. Van Gogh's request for an exchange was therefore intended to stimulate a sense of solidarity between Arles and Pont-Aven, but it was also meant as a reminder to Gauguin of his dream of collaborating with him in Arles.Van Gogh had been inspired by a practice thought to be customary among Japanese artists, whereby they exchanged artworks in order to foster community spirit and mutual appreciation. See Vincent van Gogh, letter to Emile Bernard, 3 October 1888 [696]. See Self-Portrait with Portrait of Gauguin.
A portrait within a portrait
Three weeks after receiving Van Gogh's letter, Gauguin and Bernard informed him that they had complied with his request, albeit in a modified form of their own devising.Paul Gauguin, letter to Vincent van Gogh, 1 October 1888 [692]: 'We've satisfied your desire; in a different way, it's true, but what does it matter, since the result is the same? Our 2 portraits.' ('Nous avons accompli votre désir, d'une autre façon il est vrai mais qu'importe puisque le résultat est le même. Nos 2 portraits.') Instead of portraying each other, they had each painted a self-portrait with a schematic portrait of the other in the background.The difference in age and reputation between Gauguin and Bernard made it difficult for them to produce portraits of each other that were of equal merit. On this subject, see Self-Portrait with Portrait of Gauguin. Camille Pissarro's Portrait of Cézanne
Camille Pissarro, Portrait of Cézanne, c. 1874, oil on canvas, 73 × 59.7 cm, National Gallery, London. On loan from Lawrence Graff. Photo: © The National Gallery, London of 1874 might have served as the source of inspiration for this portrait-within-a-portrait approach, since this painting contains, in the upper right-hand corner, a portrait of another artist: a caricature of Gustave Courbet (1819–1877). Pissarro (1830–1903) kept this work after its completion, so Gauguin could have seen it during one of his many visits to the older artist in the first half of the 1880s.Joachim Pissarro and Claire Durand-Ruel Snollaerts, Pissarro: Critical Catalogue of Paintings, 3 vols., Milan 2005, vol. 2, no. 326, p. 255.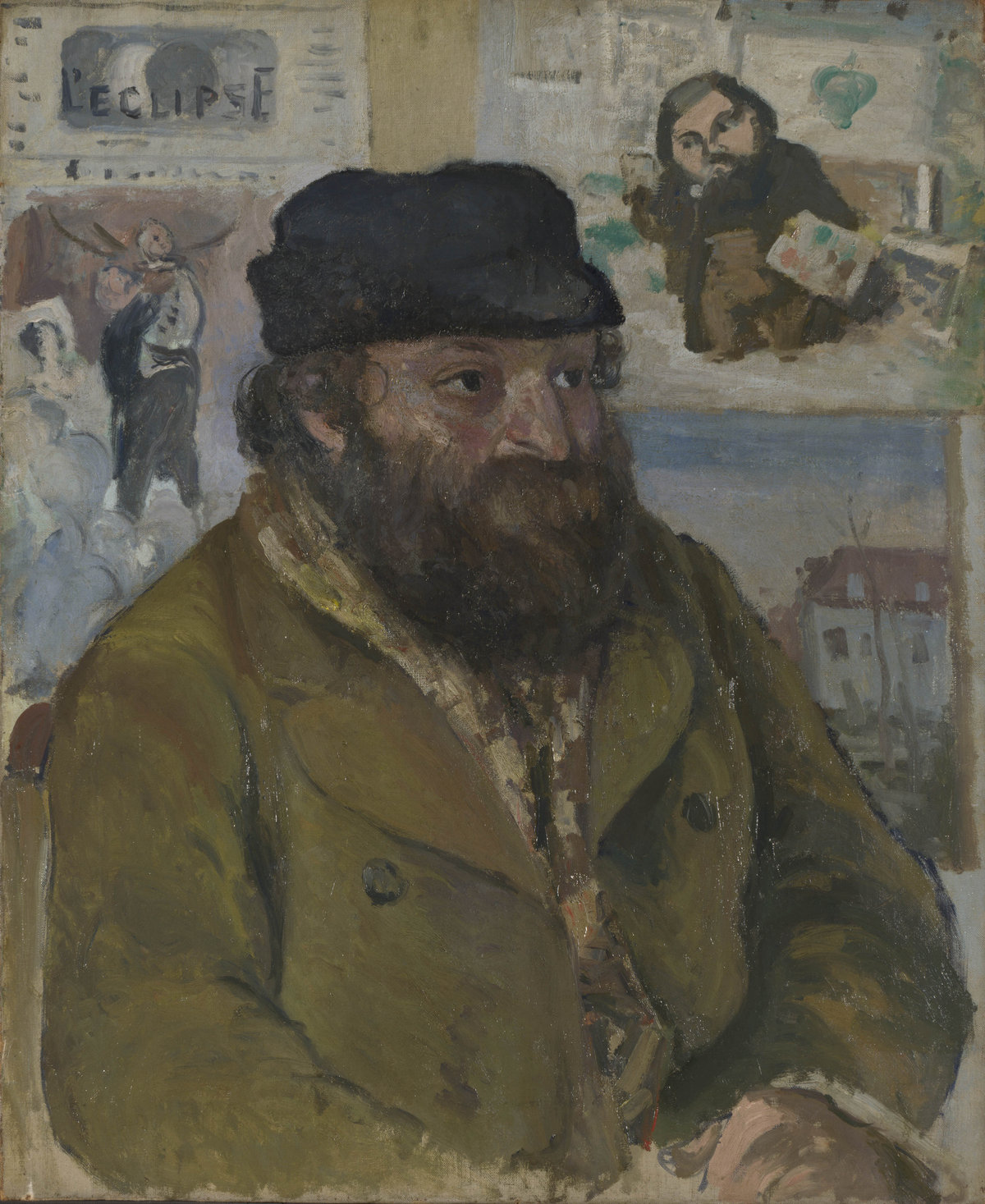 Les misérables
In his self-portrait, Gauguin placed himself and Bernard at opposite edges of the canvas and filled the central part with wallpaper. In the lower right-hand corner, he added – in addition to his signature, the date and a dedication to Van Gogh – the words 'les misérables'. From 1888 onwards, his works more frequently bear inscriptions or descriptive titles, such as La belle Angèle (1889, Musée d'Orsay, Paris) and Bonjour, Monsieur Gauguin (1889, Národni Galerie, Prague). This is also true of many of his Tahitian works made after 1891. Such titles were often intentionally vague, to enhance the evocative and mysterious quality of his work. But in the case of Self-Portrait with Portrait of Emile Bernard (Les misérables), he explained in detail in letters to Van Gogh and his artist friend Emile Schuffenecker (1851–1934) what he was intending to say with this portrait and the accompanying inscription.Paul Gauguin, letter to Vincent van Gogh, 1 October 1888 [692], and Paul Gauguin, letter to Emile Schuffenecker, 8 October 1888, in Victor Merlhès (ed.), Correspondance de Paul Gauguin: documents, témoignages: tome premier, 1873–1888, Paris 1984, no. 168.
Gauguin wrote that he had portrayed himself as Jean Valjean, the archetypal victim of injustice who is the protagonist of Victor Hugo's novel Les misérables.Gauguin had read Les misérables during the summer of 1888; see Victor Merlhès (ed.), Paul Gauguin et Vincent van Gogh, 1887–1888: lettres retrouvées, sources ignorées, Taravao 1989, p. 92. Hugo relates the story of the ex-convict Valjean, who attempts to lead a morally pure life but is constantly pursued by Inspector Javert, who repeatedly tries to reimprison him for past transgressions. Gauguin intended this personification as a reference to the victimization of avant-garde artists like himself and his friends, who, in his opinion, were misunderstood in the art world and thus found it hard to sell their work. Gauguin therefore took on the character of Valjean, 'whom society oppresses, [has] outlawed'.Paul Gauguin, letter to Vincent van Gogh, 1 October 1888 [692]: 'Et ce Jean Valjean que la societé opprime, mis hors la loi'. To this he added: 'By doing him with my features, you have my individual image, as well as a portrait of us all, poor victims of society, taking our revenge on it by doing good.'Ibid.: 'Et en le faisant sous mes traits vous avez mon image personnelle ainsi que notre portrait à tous, pauvres victimes de la societé, nous en vengeant en faisant le bien.' Such associations found fertile ground in the mind of Van Gogh, who had similar notions about his position as an artist and had previously described avant-garde painters as living like 'madmen or criminals'.Vincent van Gogh, letter to Theo van Gogh, 9 August 1888 [658]: 'Each of us living alone, we live like madmen or criminals, in appearance at least, and to some extent in reality, too.' ('Vivant seul de part et d'autre on vit comme des fous ou malfaiteurs, en apparence au moins et en réalité un peu également.') This analogy is put forward in Douglas W. Druick, Britt Salvesen and Peter Zegers, Van Gogh and Gauguin: The Studio of the South, exh. cat., Chicago (Art Institute of Chicago) / Amsterdam (Van Gogh Museum), Chicago 2001, p. 150. Here Gauguin cast himself not only in the role of victim but also as the self-appointed leader of the avant-garde painters who found themselves in this distressing situation.This is in keeping with the leading role Gauguin had assumed in Pont-Aven, as is evident from the awe he inspired in Bernard, who articulated this in a letter to Van Gogh. Vincent van Gogh, letter to Theo van Gogh, 18 September 1888 [683]: 'His [Bernard's] letter is full of veneration for Gauguin's talent – he says that he finds him so great an artist that it almost frightens him, and he finds everything that he, Bernard, does, bad in comparison with Gauguin.' ('Sa lettre est empreinte de vénération pour le talent de Gauguin – il dit qu'il le trouve un si grand artiste qu'il en a presque peur et qu'il trouve mauvais tout ce que lui, Bernard, fait en comparaison de Gauguin.')
To Gauguin's mind, Valjean's coarse and repulsive appearance combined with his big-hearted and generous nature was reflected in his own image of avant-garde artists such as Van Gogh and himself.Paul Gauguin, letter to Vincent van Gogh, 1 October 1888 [692]: 'The mask of a thief, badly dressed and powerful like Jean Valjean, who has his nobility and inner gentleness.' ('Le masque de bandit mal vêtu et puissant comme Jean Valjean qui a sa noblesse et sa douceur intérieure.') By portraying himself as a repugnant figure, Gauguin underscored this analogy. The red tones in the face stood for the 'red-hot lava that sets our painters' souls ablaze', while 'that girlish little background, with its childish flowers' symbolized their 'artistic virginity'.Ibid.: 'The rutting blood floods the face, and the tones of a fiery smithy, which surround the eyes, suggest the red-hot lava that sets our painters' souls ablaze. […] That girlish little background, with its childish flowers, is there to testify to our artistic virginity.' ('Le sang en rut inonde le visage et les tons de forge en feu qui enveloppent les yeux indiquent la lave de feu qui embrase notre âme de peintre. […] Ce petit fond de jeune fille avec ses fleurs enfantines est là pour attester notre virginité artistique.') This dichotomy could be interpreted as the passion for painting shared by the avant-garde artists, combined with the 'purity' of their artistic intentions. It is no coincidence that passion and purity are qualities with which Hugo imbued the personage of Jean Valjean.
In this way Gauguin used Jean Valjean as a means of sketching a number of key features of his image of the avant-garde artist: misunderstood and coarse in appearance, but of noble character, burning with inspiration and cherishing pure artistic intentions.
Abstraction
Gauguin emphasized, in his descriptions of his self-portrait, that his portrayal was not at all true to life. Since 1886 he had increasingly distanced himself from the trompe l'œil tradition in European painting, the aim of which had been to produce an illusionistic evocation of reality. Gauguin considered the use of simple, archaic forms to be a more honest means of expressing the artist's intent. To this end, he drew inspiration from art forms that he considered 'primitive' and as yet uninfluenced by Western decay and decadence. Gauguin followed the examples he found in Japanese prints and Persian carpets in an effort to simplify his formal idiom.
He called this simplification of reality 'abstraction'. In a letter he wrote to Van Gogh at the end of July 1888, Gauguin introduced the concept by stating the following: 'I entirely agree with you on the slight importance that accuracy contributes to art. Art is an abstraction.'Paul Gauguin, letter to Vincent van Gogh, c. 22 July 1888 [646]: 'I've just read your interesting letter and I entirely agree with you on the slight importance that accuracy contributes to art. Art is an abstraction; unfortunately we're becoming increasingly misunderstood.' ('Je viens de lire votre lettre interessante et je suis tout à fait d'accord avec vous sur le peu d'importance que l'exactitude apporte en art. L'art est une abstraction malheureusement on devient de plus en plus incompris.') Gauguin thought he had been particularly successful at such abstraction in Self-Portrait with Portrait of Emile Bernard (Les misérables). Referring to the delineation of the face, he wrote that this was a 'total abstraction' and the palette 'quite far from nature'.Paul Gauguin, letter to Emile Schuffenecker, 8 October 1888, in Merlhès 1984, no. 168: 'The drawing is quite particular, total abstraction. [...] The colour is a colour quite far from nature; imagine a vague recollection of my ceramics distorted by the kiln.' ('Le dessin est en tout à fait special, abstraction complete. […] La couleur est une couleur assez loin de la nature; figurez-vous un vague souvenir de ma poterie tordue par le grand feu.') He compared the colour of his face with that of his ceramic sculptures, which he intentionally distorted by leaving them in the kiln too long.June Hargrove, '"…un art de Caraïbes": The Impact of Martinique on Gauguin's Sculptural Practice', in Joost van der Hoeven and Maite van Dijk, Van Gogh Museum Studies 3: Gauguin and Laval in Martinique, forthcoming. He wrote proudly to Schuffenecker: 'It is, I think, one of my best things; absolutely incomprehensible (for example), that's how abstract it is.'Paul Gauguin, letter to Emile Schuffenecker, 8 October 1888, in Merlhès 1984, no. 168: 'C'est je crois une de mes meilleures choses; absolument incompréhensible (par exemple) tellement il est abstrait.'
Gauguin indicated that Persian carpets had been an important example in the rendering of his face when he wrote the following to Van Gogh: 'The drawing of the eyes and the nose, like the flowers in Persian carpets, epitomizes an abstract and symbolic art.'Paul Gauguin, letter to Vincent van Gogh, 1 October 1888 [692]: 'Le dessin des yeux et du nez semblables aux fleurs dans les tapis persans résume un art abstrait et symbolique.' It is difficult to say what exactly Gauguin meant by this. His letter to Schuffenecker contains a sketch after the self-portrait that is somewhat easier to compare with the decorative motifs in Persian carpets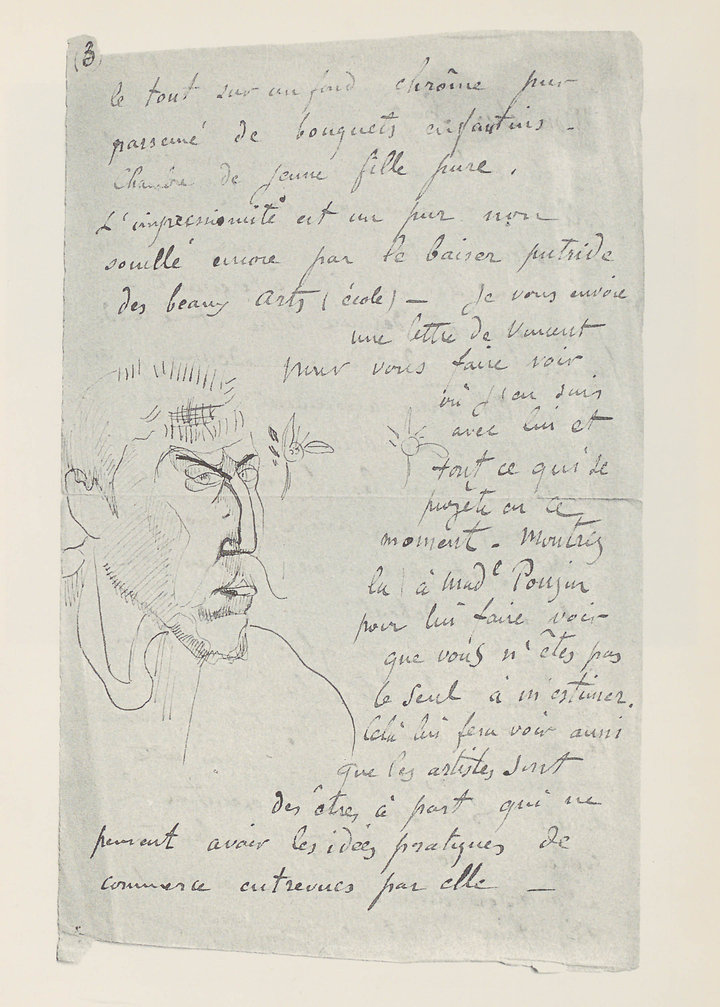 Paul Gauguin, Sketch of Self-Portrait with Portrait of Emile Bernard (Les misérables) in a letter to Emile Schuffenecker, 8 October 1888. Whereabouts unknown.. The eyes and the nose in this sketch could be compared – albeit with a bit of imagination – to a Persian flower motif.Fereshteh Daftari, 'The Influence of Persian Art on Gauguin, Matisse, and Kandinsky', diss., Columbia University, New York 1991, p. 95. By the same token, the decorative floral wallpaper can be connected with the same source of inspiration, not because Gauguin's wallpaper resembles a Persian carpet but because he chose to fill the largest and most important part of the canvas with a decorative motif.See Joseph Masheck, The Carpet Paradigm: Integral Flatness from Decorative to Fine Art, New York 2010.
Although Gauguin had various opportunities to become familiar with the art of Persian carpets, the posthumous sale of the Albert Goupil collection of Oriental art was of great importance.Important examples of potential contact include the Persian pavilion at the Exposition Universelle of 1878 and the Musée Oriental in the Palais du Trocadéro. See Daftari 1991, p. 65. Moreover, Gauguin had acquired several Persian carpets even before he became an artist. See Pola Gauguin, My Father Paul Gauguin, New York 1937, p. 46. After all, this sale, which was made much of in the press, took place several months before Gauguin began his self-portrait. The Revue des arts décoratifs, for example, published detailed reports and illustrations of the Persian carpets that were purchased by the Musée des Arts Décoratifs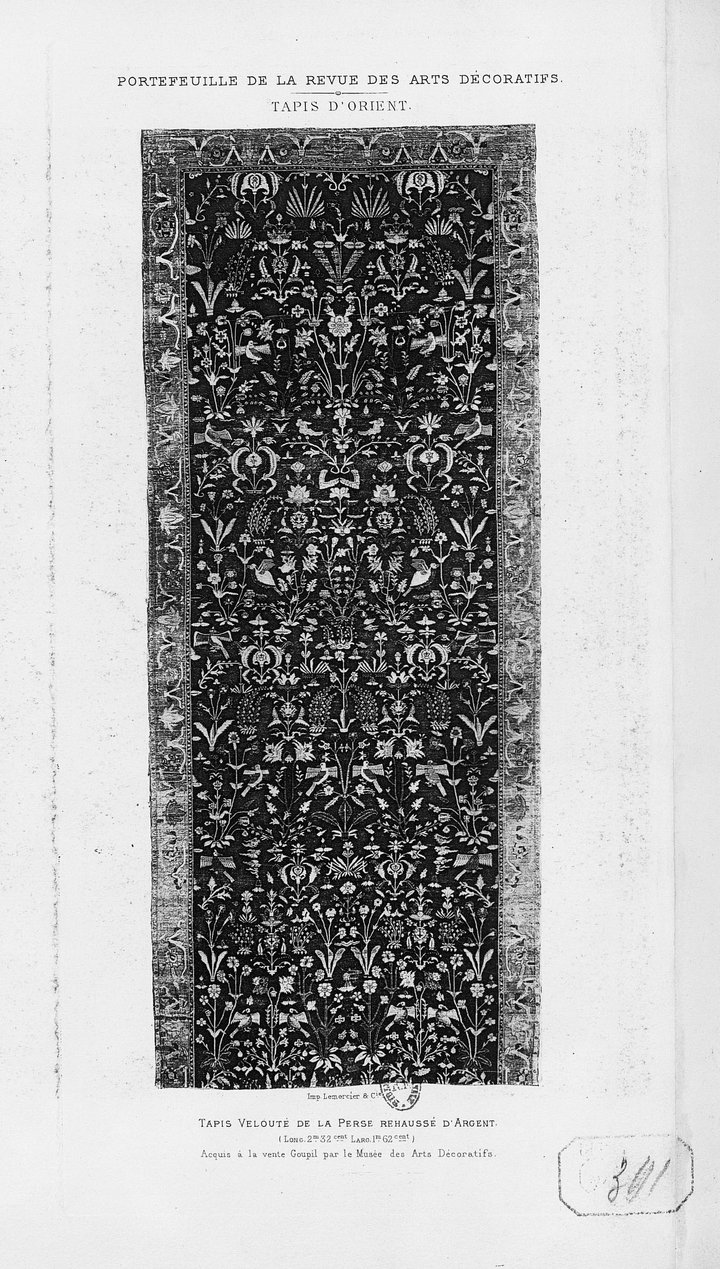 Persian velvet carpet with highlights in silver. Acquired at the Goupil sale by the Musée des Arts Décoratifs, Paris, Revue des arts décoratifs, 1888, p. 216, BnF. At the time of the sale Gauguin was already in Pont-Aven, but he may well have read about it in the press.Daftari 1991, p. 74. He continued to emphasize the importance of Persian carpets as a source of inspiration, as evidenced by what he wrote later in life in his manuscript Diverses choses (Various Things, 1896–98): 'The Orientals, the Persians and others, have, above all, printed a comprehensive dictionary of this language of the listening eye, they have endowed their carpets with a marvellous eloquence. O painters who seek a technique of colour, study the carpets.'From the anthology of texts from Diverses choses, in Paul Gauguin, Oviri: écrits d'un sauvage, choisis et presentés par Daniel Guérin, Paris 1974, p. 178: 'Les orientaux, les Persans et autres, ont avant tout imprimé un dictionnaire complet de cette langue de l'œil qui écoute, ils ont doté leurs tapis d'une merveilleuse éloquence. O peintres qui demandent une technique de la couleur, étudiez les tapis.'


A matte paint surface
The technique in which Gauguin painted his self-portrait reflected his fascination for 'primitive art' as well. His dismissal of the smooth, varnished finish of Salon paintings led him to strive to achieve the most matte paint surface possible.Vojtěch Jirat-Wasiutyński and H. Travers Newton Jr, Technique and Meaning in the Paintings of Paul Gauguin, Cambridge 2000, p. 113 He often achieved a matte effect by preparing his canvases with a thin, chalky ground and leaving his paintings unvarnished, as he did with this painting.For a general discussion of Gauguin's grounds, especially those he made himself, see Carol Christensen, 'The Painting Materials and Technique of Paul Gauguin', Studies in the History of Art, 41: Conservation Research, Monograph Series II, National Gallery of Art, Washington, DC (1993), pp. 70–73. Though it is difficult to discern, this canvas too was covered with a very thin ground layer consisting of chalk, plaster and animal glue. This layer was applied to a cotton cloth that was known for its absorbent quality.Devi Ormond and Nienke Bakker, 'Van Gogh and His Pont-Aven "Pals": A Comparative Study of Their Painting Technique from the Second Half of September 1888', in Marije Vellekoop et al. (eds.), Van Gogh's Studio Practice, Amsterdam/Brussels 2013, pp. 368–70. The paint was thus soaked up, so much so that it is visible on the reverse of the canvas. Large zones of yellow, blue and green paint have made their way through the structure of the canvas to the back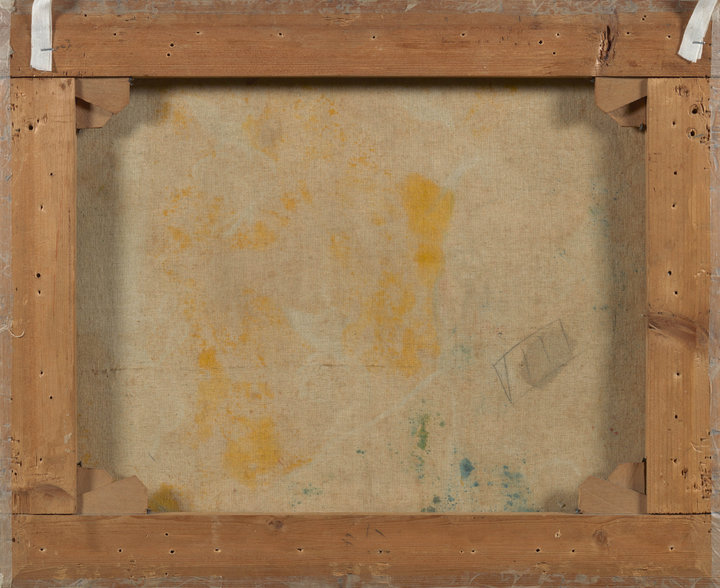 Reverse of Self-Portrait with Portrait of Emile Bernard (Les misérables), resulting in a paint surface that appears matte, thin and dry. In many places the structure of the canvas can be seen through the paint.
Following his customary practice, Gauguin laid in the composition by drawing the contours of his subject in Prussian blue and then patiently filling in the areas.Ibid., p. 370. When applying the zones of colour, he painted with great precision up to the blue lines, without going across them, so as to have little overlap of the various colours and to avoid any trompe l'œil effect. The borders between the passages of light and shadow in the face are therefore particularly distinct. The fact that the paint dried quickly, owing to the absorbent qualities of the ground and the canvas, enabled Gauguin to paint soon over previously applied layers of paint.Ibid., p. 374.
Gauguin suspected that the painting would darken, since he had used lead white. That he did not necessarily consider this a problem is apparent from his utterance: 'And besides, it's not done exclusively from the point of view of colour.'Paul Gauguin, letter to Vincent van Gogh, 1 October 1888 [692]: 'Du reste ce n'est pas fait au point de vue de la couleur exclusivement.' He offered no further explanation, but it must have been clear to Van Gogh what he meant. This was, after all, Gauguin's follow-up to previous comments about the poetic expressiveness of colour, which they had been discussing in their correspondence.See Paul Gauguin, letter to Vincent van Gogh, c. 8 September 1888 [675]: 'Yes, you're right to wish for painting with a coloration suggesting poetic ideas, and in that sense I'm in agreement with you, with one difference. I don't know any poetic ideas, it's probably a sense that I lack. I find EVERYTHING poetic, and it's in the corners of my heart which are sometimes mysterious that I catch a glimpse of poetry.' ('Oui vous avez raison de vouloir de la peinture avec une coloration suggestive d'idées poétiques et en ce sens je suis d'accord avec vous avec une différence. Je ne connais pas d'idées poétiques, c'est probablement un sens qui me manque. Je trouve TOUT poétique et c'est dans les coins de mon cœur qui sont parfois mystérieux que j'entrevois la poésie. Les formes et les couleurs conduites en harmonies produisent d'elles-mêmes une poésie.') Gauguin deliberately pushed the discussion aside because this self-portrait had less to do with colour than with literary meaning and symbolism.
Van Gogh's reaction
Remarkably, the letter in which Gauguin had explained to Van Gogh the meaning of Self-Portrait with Portrait of Emile Bernard (Les misérables) arrived before the painting did.Gauguin's letter containing the description of the self-portrait was dated 1 October 1888 [692]. Van Gogh replied to Gauguin on 3 October 1888, without mentioning that he had actually received the painting [695]. It was not until a couple of days later, on 4 or 5 October 1888, that Van Gogh reported the delivery of the self-portrait [697]. Gauguin's descriptions elicited instant humility and touched Van Gogh to the core. Of course he too had read Les misérables and knew exactly what Gauguin was talking about.Vincent van Gogh, letter to Theo van Gogh, c. 29 March–1 April 1883 [333]: 'I'm reading Les misérables by V. Hugo.' ('Ik ben bezig aan het lezen van les miserables van V. Hugo.') He immediately assumed that the portrait would be too good for a simple exchange. Van Gogh decided, before ever seeing Gauguin's self-portrait, that it must be purchased, because the work that he intended to send in exchange, Self-Portrait Dedicated to Paul Gauguin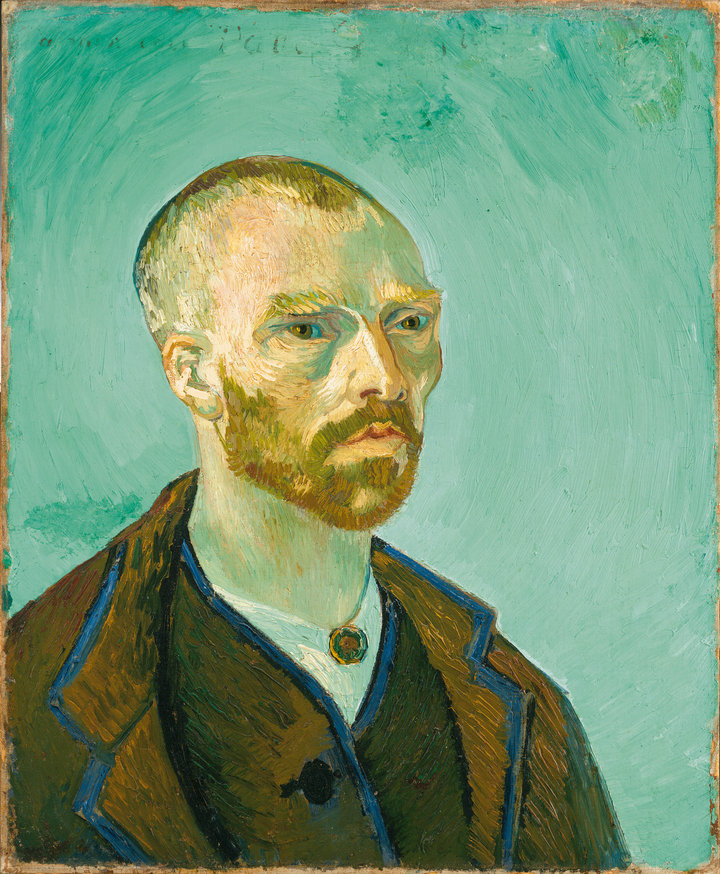 Vincent van Gogh, Self-Portrait Dedicated to Paul Gauguin, 1888, oil on canvas, 61.5 × 50.3 cm, Harvard Art Museums/Fogg Museum, Cambridge, MA. Bequest from the Collection of Maurice Wertheim, Class of 1906. Photo: © President and Fellows of Harvard College, would not be equal in importance to the work of his friend in Pont-Aven.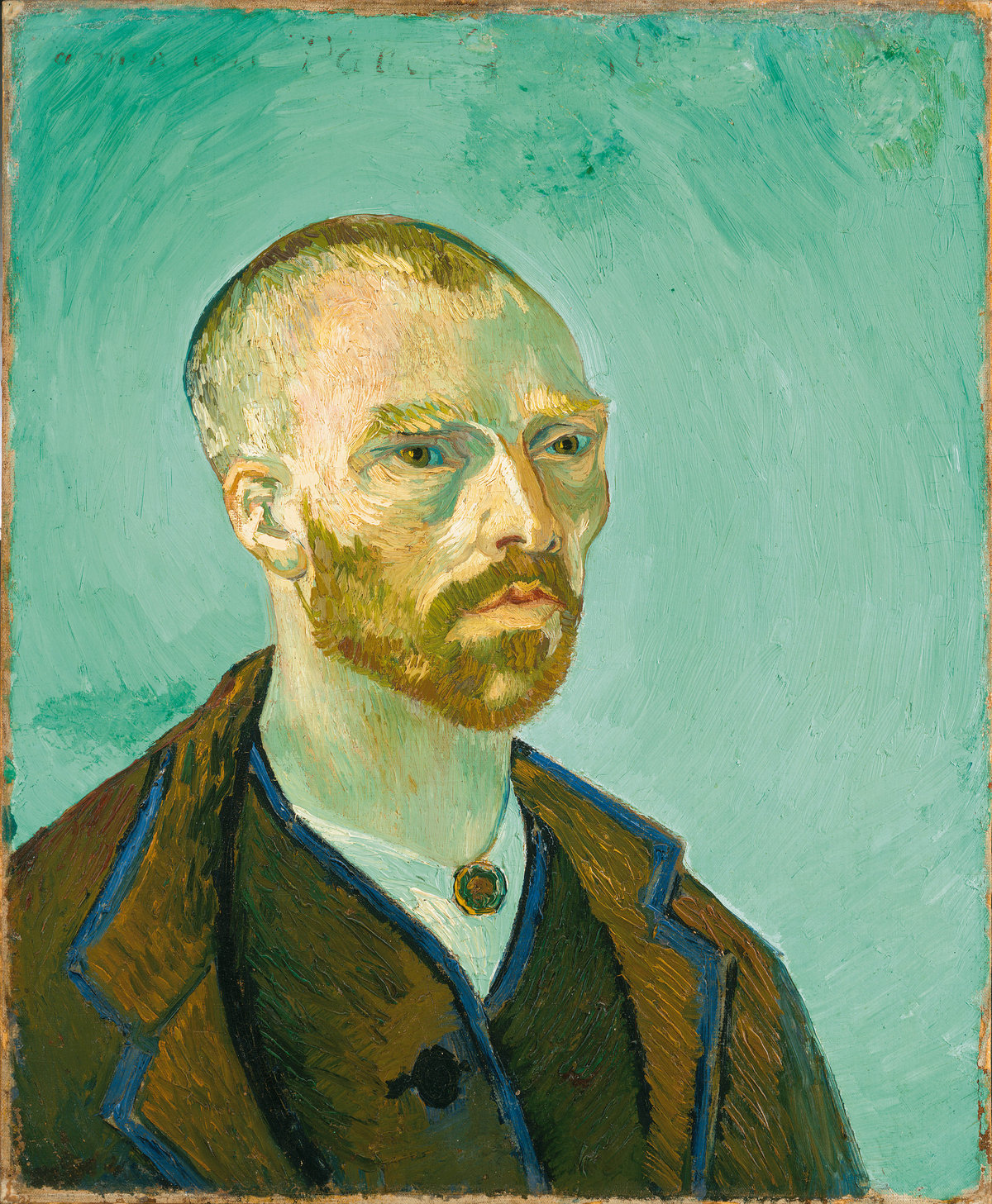 Gauguin, however, was determined to stick to the original plan and carry through the exchange.Paul Gauguin, letter to Theo van Gogh, 7 or 8 October 1888, in Merlhès 1984, no. 167: 'So the portrait that I made for him is not for sale, it was made for him, exchanged or not exchanged.' ('Ainsi le portrait que je lui ai fait n'est pas à vendre il est fait pour lui échangé ou pas échangé.') But when Van Gogh actually laid eyes on Gauguin's self-portrait, his initial humility turned to disappointment. Now that Van Gogh was in a position to compare his own self-portrait with Gauguin's, he could not help coming to the conclusion that his work easily measured up to that of his friend.Vincent van Gogh, letter to Theo van Gogh, 4 or 5 October 1888 [697]: 'And now at last I have a chance to compare my painting with that of the pals. My portrait that I'm sending to Gauguin in exchange stands up beside it, I'm sure. I wrote to Gauguin in reply to his letter that if I too was allowed to enhance my personality in a portrait, trying to show in my portrait not only myself but an impressionist in general, I would have conceived this portrait as being that of a bonze, a simple worshipper of the eternal Buddha.' ('Voilà qu'en fin j'ai l'occasion de comparer ma peinture à celle des copains. Mon portrait que j'envoie à Gauguin en échange se tient à côté j'en suis sûr. j'ai ecrit à Gauguin en reponse à sa lettre que s'il m'etait permis à moi aussi d'agrandir ma personalité dans un portrait j'avais, en tant que cherchant à rendre dans mon portrait non seulement moi mais en general un impressioniste, j'avais conçu ce portrait comme celui d'un bonze, simple adorateur du Bouddha éternel.')
Van Gogh found Gauguin's painting too sombre and lacking in spontaneity. In a letter to Theo, he commented at length on the work. The self-portrait looked 'studied' and excessively elaborate, and he thought that Gauguin looked 'ill and tormented'.Vincent van Gogh, letter to Theo van Gogh, 4 or 5 October 1888 [697]: 'The Gauguin is more studied, taken further. […] Gauguin looks ill and tormented in his portrait!!' ('Le Gauguin est plus étudié, poussé loin. […] Gauguin a l'air malade dans son portrait et torturé!!') This had essentially been Gauguin's intention, but Van Gogh's reaction plainly shows his disapproval. The blue hues that Gauguin had chosen for the shaded passages in the face seemed lugubrious to Van Gogh and were a clear sign that Gauguin's art had taken a wrong turn.Vincent van Gogh, letter to Theo van Gogh, 4 or 5 October 1888 [697]: 'the flesh in the shadows is lugubriously tinged with blue' ('la chair dans les ombres est lugubrement bleuté'). Just when Van Gogh was ready to strike a cheerful note with his bright palette inspired by Japanese prints, Gauguin seemed to be moving in the opposite direction.See Louis van Tilborgh, 'In the Light of Japan: Van Gogh's Quest for Happiness and a Modern Identity', in Louis van Tilborgh et al. (eds.), Van Gogh and Japan, exh. cat., Amsterdam (Van Gogh Museum), Brussels, Amsterdam & Sapporo 2018, pp. 40–91.
Van Gogh saw in the painting a pessimism and resignation that made him think more of Claude Lantier, the protagonist of Emile Zola's L'Œuvre, than of the forthright and resilient Jean Valjean.Vincent van Gogh, letter to Theo van Gogh, 8 October 1888 [699]: 'That I do not like these horrors of the "work", except in so far as they show us our way. Our way is not to endure them for ourselves, nor to make others endure them.' ('Que je n'aime pas ces atrocités de "l'œuvre" qu'en tant que quant à nous montrant notre chemin. Notre chemin c'est de ne pas les endurer pour nous ni les faire endurer aux autres.') Lantier, an avant-garde artist, had reached a dead end in his art and in his crusade against Salon painting, and his desperation ultimately led him to commit suicide. In October 1888, Van Gogh had still trusted that Gauguin's battle would end well, but Self-Portrait with Portrait of Emile Bernard (Les misérables) seemed to tell him that his friend had lost heart.
Van Gogh was fundamentally shocked by the way Gauguin's art had evolved. The last works by Gauguin that he had seen were his Martinican paintings, and he had praised them highly. These works – which Van Gogh had seen in Paris, before his departure for Arles – formed the basis of his admiration for the older painter.See, for example, Vincent van Gogh, letter to Emile Bernard, c. 22 May 1888 [612]: 'Ah, you do darned well to think of Gauguin – they're high poetry, his n— – and everything his hand makes has a sweet, heart-rending, astonishing character.' ('Ah tu fais rudement bien de penser à Gauguin – c'est de la haute poésie ses n— – et tout ce que fait sa main a un caractère doux navré étonnant.') Even though they had been corresponding in the meantime, Van Gogh knew little about the stylistic development that Gauguin had undergone in Pont-Aven. The abstracted, schematic delineation in the portrait and the colours that were 'quite far from nature' were by no means well received by Van Gogh, who concluded that Gauguin must once again become the 'richer Gauguin' of the Martinique paintings.Vincent van Gogh, letter to Theo van Gogh, 4 or 5 October 1888 [697]: 'What Gauguin's portrait says to me, first and foremost, is that he mustn't go on that way, he must console himself, he must become the richer Gauguin of the negresses again.' ('Ce que le portrait de Gauguin me dit surtout c'est qu'il ne doit pas continuer comme cela, il doit se consoler, il doit redevenir le Gauguin plus riche des negresses.')
Van Gogh went on to say: 'He needs to eat, to walk with me in some beautiful countryside – to have a screw once in a while – see the house as it is and as we'll make it, and in a word, thoroughly enjoy himself.'Vincent van Gogh, letter to Theo van Gogh, 8 October 1888 [699]: 'Il doit manger, se promener avec moi dans une belle nature – tirer une fois ou deux son coup – voir la maison comme elle est et comme nous la feront et enfin se distraire sérieusement.' Above all, Van Gogh thought it was important for Gauguin to hasten to Arles. As stated earlier, he had been trying for months to persuade Gauguin to come, but the sight of the self-portrait made this plan seem even more urgent. 'What Gauguin's portrait says to me, first and foremost, is that he mustn't go on that way, he must console himself.'Vincent van Gogh, letter to Theo van Gogh, 4 or 5 October 1888 [697], see n. 43 above. Van Gogh was certain that Arles would provide Gauguin with that consolation.
For the rest, Van Gogh did share Gauguin's conviction that the drawing of the nose and eyes was 'Persian', and in a letter to Theo he suggested, ironically, that the work would be perfectly at home in the Dieulafoy museum, a room in the Louvre that contained Achaemenid artefacts and had opened on 6 June 1888. 'But', wrote Van Gogh, 'I belong neither to high society nor even to society..... and – I prefer both the Greeks and the Japanese to the Persians and Egyptians. For all that, I'm not saying that Gauguin's wrong to work in the Persian style. But I'll have to get used to it.'Ibid.: 'As for what Gauguin says about "Persian", it's true, I don't believe it would be shocking, placed in the Dieulafoy Museum; it could be placed there with no problem. But but but... I belong neither to high society nor even to society..... and – I prefer both the Greeks and the Japanese to the Persians and Egyptians. For all that, I'm not saying that Gauguin's wrong to work in the Persian style. But I'll have to get used to it.' ('Pour ce que dit Gauguin de "Persan", c'est vrai – je ne crois pas que mis au musée Dieulafoie cela choquerait, on pourrait l'y mettre sans inconvenient. Mais mais mais... je ne suis pas moi ni du grand monde ni meme du monde..... et – aux persans et Egyptiens je préfère et les grecs et les japonais. Je ne dis pas que Gauguin aie tort de travailler dans le Persan pour cela.– Mais il faut que je m'y fasse.') In fact this difference of opinion, as well as Gauguin's references to symbolism and abstraction, foreshadowed the increasing discordance between Van Gogh and Gauguin during their time together in Arles. Their discussions there became increasingly tense, until Van Gogh suffered a mental breakdown on 23 December 1888 and cut off his ear in a psychotic state.
In spite of everything that happened when the two artists were living together in Arles, Van Gogh later thought that Gauguin's time in the south had done him a lot of good. As evidence of this, he referred to a more recent self-portrait of Gauguin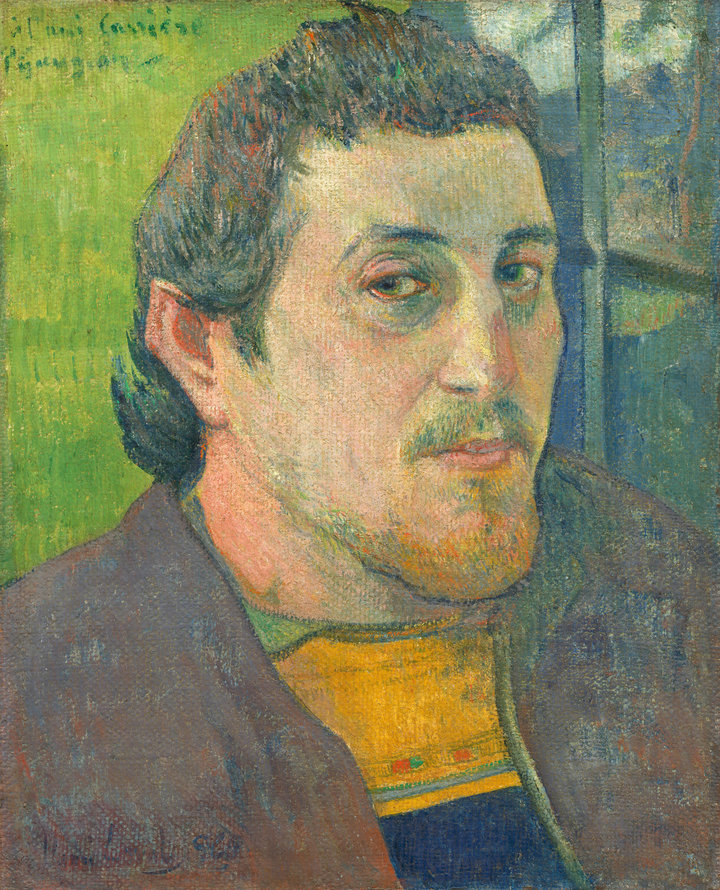 Paul Gauguin, Self-Portrait Dedicated to Carrière, 1888, oil on jute, 46.5 × 38.6 cm, National Gallery of Art, Washington, DC, which had been painted during his last days in Arles. Van Gogh wrote: 'Have you seen the portrait of me that Gauguin has, and have you seen the portrait that Gauguin did of himself during those final days? If you were to compare this portrait which Gauguin did of himself then with the one I still have of him, which he sent to me from Brittany in exchange for mine, you would see that all in all he grew more serene here, personally.'Vincent van Gogh, letter to Theo van Gogh, 9 January 1889 [735]: 'As tu vu le portrait que Gauguin a fait de soi juste dans les derniers jours. Si tu comparais ce portrait que Gauguin a fait de soi alors, avec celui que j'ai encore de lui, qu'il m'a envoyé de Bretagne en échange du mien, tu verrais que personellement il s'est en somme tranquilisé ici.' Although the course of events tells a different story, it is difficult to say that Van Gogh was wrong in this regard. Gauguin looks considerably healthier in the later portrait. However, Van Gogh's assessment reveals that the time the two artists spent together did nothing to change their opinions on self-portraiture. Van Gogh still valued the self-portrait as an expression of the subject's state of mind at a given point in time, whereas Gauguin was bent on using his likeness to convey an idea.
Joost van der Hoeven
March 2023