Between 15 May and 15 June 1886, Vincent (1853–1890) and Theo van Gogh (1857–1891) visited the eighth and final Impressionist Exhibition at 1 rue Laffitte in Paris.Vincent van Gogh, letter to Horace Mann Livens, September or October 1886 [569]; Marije Vellekoop et al. (eds.), Van Gogh at Work, exh. cat., Amsterdam (Van Gogh Museum), Amsterdam & Brussels 2013, p. 115. Besides the works of, among others, Edgar Degas (1834–1917), Paul Gauguin (1848–1903), Berthe Morisot (1841–1895), Georges Seurat (1859–1891) and Paul Signac (1863–1935), they had the opportunity to admire no fewer than twenty-one paintings and pastels by Armand Guillaumin (1841–1927).Guillaumin contributed to six of the eight Impressionist Exhibitions, including the first in 1874, where he was represented with three works. See Musée d'Orsay, La base Salons, accessed 18 August 2022. Guillaumin predominantly exhibited landscapes but also some figure pieces, including Portrait of a Young Woman. Vincent was greatly impressed by this work, as later letters would attest. Whether Theo and Vincent purchased it immediately at the exhibition is unclear, but in any event the painting came into their possession soon thereafter.In letters from September 1889, [800] and [804], Vincent van Gogh referred to Guillaumin's work being in the collection and in Theo's apartment. Both Portrait of a Young Woman and Self-Portrait with Palette must have been acquired before Van Gogh left Paris on 19 February 1888 as he described the paintings in said letters as if he knew them well.
The Van Gogh brothers also owned a second portrait by Guillaumin, Self-Portrait with Palette from 1878.See n. 3. The exact details of when and how they acquired it remain unknown. According to G. Serret and D. Fabiani's 1971 catalogue raisonné of Guillaumin's oeuvre, the portrait, which depicts the artist in his atelier holding a palette, is one of his only five self-portraits, amongst the 847 paintings he made from 1869 to 1922, which are mainly landscapes.Georges Serret and Dominique Fabiani, Armand Guillaumin, 1841–1927: catalogue raisonné de l'œuvre peint, Paris 1971, nos. 38, 39, 55, 165, 764. In the years since the publication of the catalogue raisonné, more work and a couple of further self-portraits have come to light. Like Portrait of a Young Woman, Guillaumin displayed Self-Portrait with Palette at an Impressionist Exhibition, namely the fifth edition in 1880. It was catalogued under number 72, as 'Portrait de M.G.', referring to Monsieur Guillaumin.Catalogue de la 5me exposition de peinture, Paris 1880, no. 72, p. 10.
Bright colours and impastos
The model in Guillaumin's Portrait of a Young Woman is seated in a wooden chair with floral upholstery against a background of wallpaper or a curtain featuring slightly bolder floral motifs. The shape of her mouth, among other facial features, suggests that this is the same sitter Guillaumin painted a year earlier in a work titled The Model, which was also shown at the final Impressionist Exhibition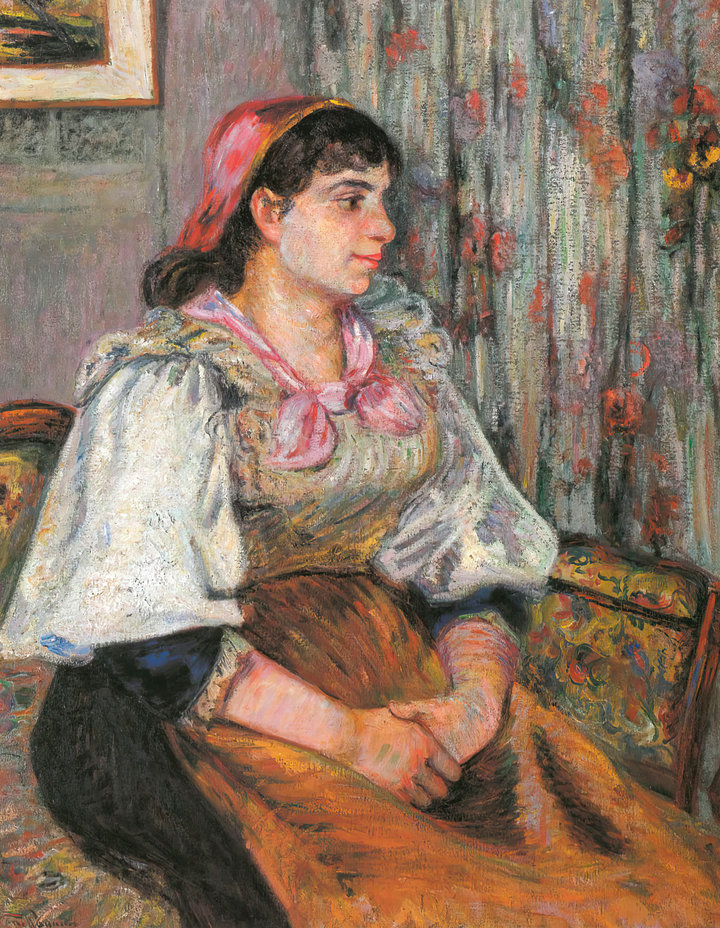 Armand Guillaumin, The Model, 1885, oil on canvas, 81 × 65.1 cm, private collection. Photo: c/o Sotheby's. In that painting, a woman is seated in a similar chair with a backdrop of the same type of floral curtain. It is likely that both works depict Guillaumin's atelier; a framed picture on the wall can be seen in the background of The Model. The curtain and chair also make an appearance in Mademoiselle Guillaumin Reading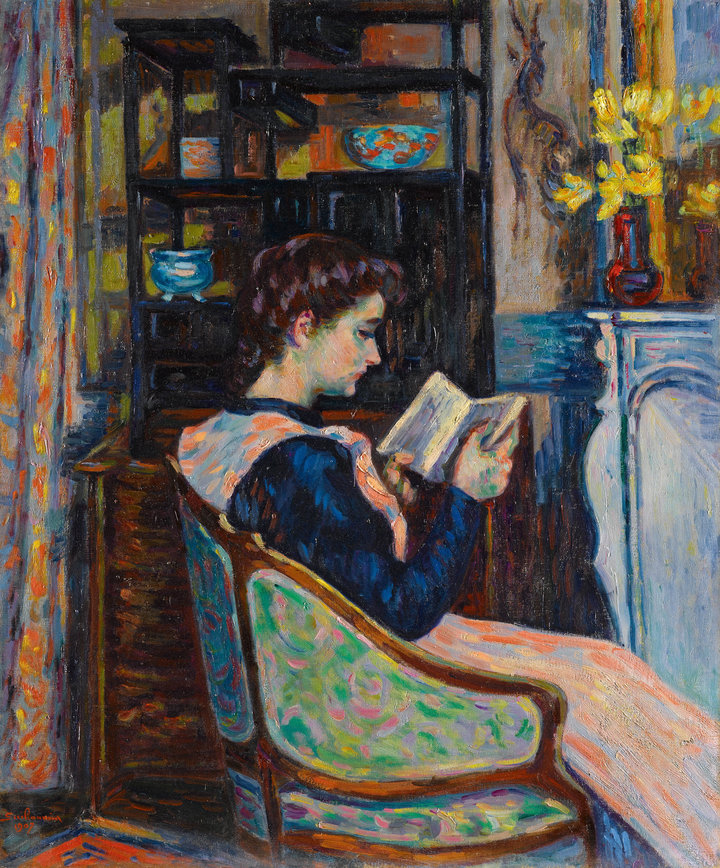 Armand Guillaumin, Mademoiselle Guillaumin Reading, 1907, oil on canvas, 65 × 54 cm, private collection, painted in 1907, almost twenty years later, for which Guillaumin's eldest daughter, Madeleine, posed.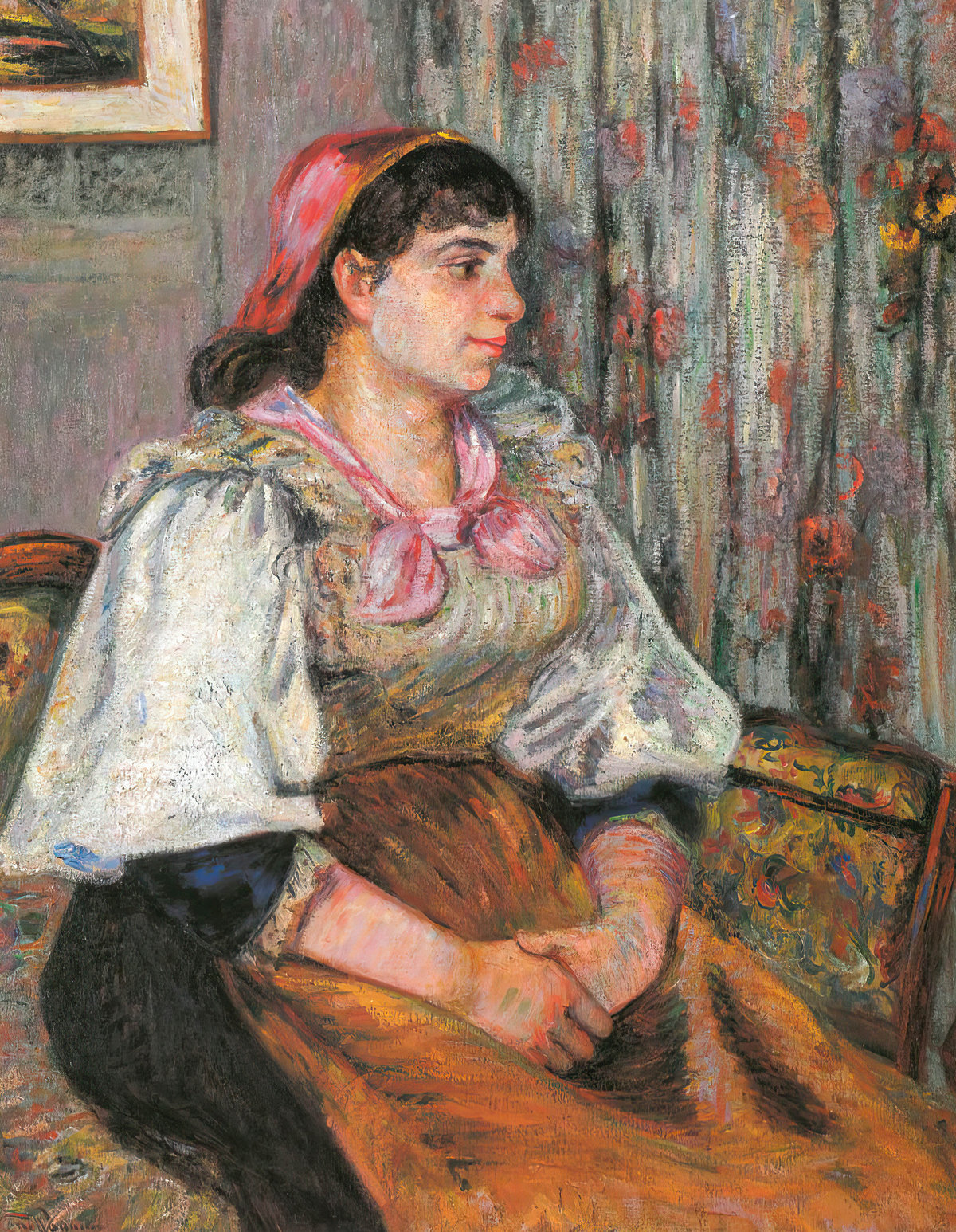 Guillaumin began Portrait of a Young Woman by sketching the contours of the figure on the canvas using diluted pale blue, dark blue and pink oil paint. He then proceeded to paint the portrait in two or three stages, employing both a wet-on-dry and a wet-on-wet technique.Condition report by Maranthe Lammers, 19 June 2016, Van Gogh Museum Archive. Portrait of a Young Woman is painted on a standard canvas 'figure 15' (65 × 54 cm), the self-portrait on standard-size 'figure 12' (61 × 50 cm). The paint bled through visibly onto the back of the canvas, which was never lined. The dark blue dress is enlivened with bright colours such as red, orange and green. Guillaumin further accentuated the face with pronounced pink, green, yellow, blue, purple and red highlights. The work is signed and dated in red, as is the Self-Portrait with Palette.
Contemporary reviews often praised Guillaumin's intense use of colour. For instance, Félix Fénéon (1861–1944) referred to him as a 'furious colourist' ('coloriste furieux') and commended his broad impasto technique.James H. Rubin, 'Armand Guillaumin (1841–1927)', Nineteenth-Century Art Worldwide 9 (2010), p. 122; Félix Fénéon, 'Les impressionistes', La Vogue (13–20 June 1886), pp. 261–75: 'Here we find ourselves in front of works by Guillaumin. Vast skies, some ablaze with intense heat, where clouds collide in a battle of greens, purples, mauves, and yellows. Others take on a twilight hue, with the horizon giving rise to an enormous, formless mass of low clouds streaked by slanting winds. Beneath these heavily sumptuous skies, painted with violent and broad impastos, violet landscapes emerge, alternating between ploughed fields and pastures, while the trees twist and turn.' ('Nous voilà devant les Guillaumin. Des ciels immenses: des ciels surchauffés, où se bousculent des nuages dans la bataille des verts, des pourpres, des mauves et des jaunes; d'autres, crépusculaire alors, où de l'horizon se lève l'énorme masse amorphe de nues basses que des vents obliques strient. Sous ces ciels lourdement somptueux, se bossuent, peintes par de violents et larges empâtements, des campagnes violettes et alternant labours et pacages; des arbres se crispent.') Paul Adam (1862–1920) wrote of the Portrait of a Young Woman: 'If Mr Guillaumin still retains a certain fondness for blending [colours] on a palette, his colouration now pulsates with even greater intensity.'Paul Adam, 'Peintres impressionnistes', La Revue contemporaine: littéraires, politique et philosophique 4 (April 1886), pp. 541–51: 'Si M. Guillaumin garde encore certaines tendresse pour les mélanges sur palette, son coloris n'en vibre pas moins d'une manière intense.' The Van Gogh brothers also appreciated Guillaumin's impasto and colour choices. For example, Theo wrote: 'one always finds his same pink, orange and violet blue patches again, but his touch is vigorous and his view of nature is quite broad'.Theo van Gogh, letter to Vincent van Gogh, 22 October 1889 [813]: 'Lui [Guillaumin] il ne cherche pas beaucoup de nouveau dans la coloration. Il se contente de ce qu'il a trouvé et on retrouve toujours ses mêmes taches roses, orangés & bleus violets, mais sa touche est vigoureuse & sa vue sur la nature est bien large.'
The colour scheme of Self-Portrait with Palette might initially appear subdued, but upon closer inspection it becomes evident that Guillaumin masterfully employed a myriad of colours, sometimes even in a single brushstroke. For instance, in the Portrait of a Young Woman, the skin of the face is painted with a rich tapestry of hues. As one of the pioneering impressionists, Guillaumin juxtaposed these colours side by side, creating an optical blend when viewed from a distance that imbued his paintings with a shimmering effect. Both portraits ultimately achieve a harmonious balance of colours across the canvas. In 1880, the author and art critic Joris-Karl Huysmans (1848–1907) described this effect as follows: 'Mr Guillaumin, too, is a colourist, and a ferocious one at that. At first sight, his canvases may appear as a chaotic clash of tones and restless contours, with a mass of vermillion and Prussian blue streaks. But take a step back and blink: harmony prevails, everything falls into place, the planes gain clarity, the shrieking tones find tranquillity and the antagonistic colours reconcile. One is astonished by the unexpected delicacy that certain parts of these canvases take.'Joris-Karl Huysmans, L'art moderne (deuxième édition), Paris 1902, p. 261: 'M. Guillaumin est, lui aussi, un coloriste et, qui plus est, un coloriste féroce; au premier abord, ses toiles sont un margouillis de tons bataillants et de contours frustres, un amas de zébrures de vermillon et de bleu de Prusse; écartez-vous et clignez de l'œil, le tout se remet en place, les plans s'assurent, les tons hurlant s'apaisent, les couleurs hostiles se concilient et l'on reste étonné de la délicatesse imprévue que prennent certaines parties de ces toiles.'
Examination of paint samples reveals that the cobalt blue paint used by Guillaumin was sold in the art supply shop of Julien 'Père' Tanguy (1825–1894).This type of cobalt blue contained a high nickel concentration and no phosphorus. Guillaumin also probably bought the red paint (lake red) found in the Self-Portrait from Tanguy. Marije Vellekoop et al. (eds.), Van Gogh's Studio Practice, Amsterdam & Brussels 2013, pp. 265–66, 385 n. 105. This shop was popular with young painters; Signac and Van Gogh also bought materials there. Moreover, Tanguy exhibited and traded works by these artists. He was the main dealer for Guillaumin until 1870, after which Paul Durand-Ruel (1831–1922), Eugène Blot (1857–1938) and Alphonse Portier (1841–1902) also sold his works. The latter possibly introduced Guillaumin to the Van Gogh brothers.Henri Perruchot, 'Van Gogh "à Paris"', Hommes et mondes 103 (1955), p. 313; Gustave Coquiot, Vincent van Gogh, Paris 1923, p. 136.
Guillaumin and the Van Gogh brothers
Van Gogh considered Guillaumin to be one of the painters of the 'Petit Boulevard', a term he used to describe a group of young artists, contrasting them to the 'Grand Boulevard' painters among whom he included Claude Monet (1840–1926) and Camille Pissarro (1830–1903).Vincent van Gogh, letter to Paul Gauguin, 3 October 1888 [695]. However, it is worth noting that Guillaumin did belong to the older generation. As early as 1861, he had attended classes at the Académie Suisse in Paris, where he forged friendships with Paul Cézanne (1839–1906) and Pissarro. Guillaumin's financial circumstances were not always favourable for pursuing his artistic aspirations. Pissarro described how Guillaumin often was forced to work late into the night to support himself, undertaking various jobs, for instance with the French railways and later for the department of bridges and roads (Pont et Chaussées).Camille Pissarro, letter to Antoine Guillemet, 3 September 1872, in Janine Bailly-Herzberg (ed.), Correspondance de Camille Pissarro, 5 vols., Paris 1980–91, vol. 1: 1865–1885 (1986), pp. 76–77, no. 18: 'Guillaumin has spent a few days with us, he always works during the day on his paintings and in the evenings on his pits, such courage!' ('Guillaumin vient passer quelques jours chez nous, il travaille toujours le jour à la peinture et le soir à ses fosses, quel courage!') These undeniably impacted his artistic interests: he regularly painted the industrialization of the landscape. Only in 1891, when Guillaumin won 100,000 francs in a lottery, did he become free from financial worries and able to devote himself entirely to art.Serret and Fabiani 1971, p. 64.
Guillaumin resided and worked at 13 quai d'Anjou, on the Île Saint-Louis on the Seine, in the former atelier of Charles-François Daubigny (1817–1878). Van Gogh visited him there in 1887, and Guillaumin in turn paid a visit to Van Gogh to see his work.Vincent van Gogh, letter to Emile Bernard, about December 1887 [575]. Guillaumin visited Van Gogh together with Portier on 1 October 1887. See Chris Stolwijk and Richard Thomson (eds.), with a contribution by Sjraar van Heugten, Theo van Gogh, 1857–1891: Art Dealer, Collector and Brother of Vincent, exh. cat., Amsterdam (Van Gogh Museum) / Paris (Musée d'Orsay), Amsterdam & Zwolle 1999, p. 187. Later, after Van Gogh had left for Arles, the two artists entertained the idea of exchanging works. Guillaumin is said to have left a beautiful painting of a sunset at Tanguy's for Van Gogh and, in return, expressed interest in one of Van Gogh's paintings of the Alpilles mountains.Vincent van Gogh, letter to Theo van Gogh, on or around 1 May 1890 [865]; Theo van Gogh, letter to Vincent van Gogh, 5 June 1890 [880]. However, it is unclear whether this exchange ever took place. It is worth noting that besides the two painted portraits and a pastel
Armand Guillaumin, Farms at Janville, 1878, pastel on wove paper, 51 × 65.9 cm, Van Gogh Museum, Amsterdam (Vincent van Gogh Foundation), which are still in the Van Gogh Museum today, there was originally another work by Guillaumin in Theo and Vincent's collection, which may very well have been the sunset painting.The 1878 pastel drawing Farmhouses in Janville (Van Gogh Museum, Amsterdam (Vincent van Gogh Foundation), inv. no. d0665V1962) was also acquired in 1888. Vincent van Gogh, letter to Theo van Gogh, on or about 13 April 1888 [597]. The inventory list of June 1891 records four works by Guillaumin.Abridged deed of estate description by Harm Pieter Bok, notary in Bussum, 26 June 1891 (Van Gogh Museum, Amsterdam (Vincent van Gogh Foundation), inv. no. b2214V1982).
Guillaumin had married Marie-Josephine Gareton in 1887, and she and Theo's wife, Jo van Gogh-Bonger (1862–1925), maintained a cordial correspondence after Vincent's death and during Theo's illness.Marie Guillaumin, letters to Jo van Gogh-Bonger, late November–early December 1890, 5 November 1890 and 2 January 1891 (Van Gogh Museum, Amsterdam (Vincent van Gogh Foundation), inv. nos. b1172V1962, b1173V1962 and b114V1962). The correspondence covers Theo's illness, the care of both their babies and the organization of an exhibition of Vincent's work. In 1897, Ambroise Vollard (1866–1939) expressed interest in buying works by Guillaumin from Van Gogh-Bonger, eventually leading to the transaction taking place in 1899.Ambroise Vollard, letter to Jo van Gogh-Bonger, 30 November 1896 (Van Gogh Museum, Amsterdam (Vincent van Gogh Foundation), inv. no. b1309V1962): 'I am keen to purchase both the Renoir landscape for 400 francs and the Guillaumin riverside painting for 250 francs. Let me know if this suits you' ('Je suis acheteur ferme pour quatre cents francs de Renoir que vous avez représentant un paysage et du Guillaumin que vous avez au prix de deux cents cinquante francs il représente je crois un bord de rivière Voyez si cela vous convient'). Chris Stolwijk et al. (eds.), The Account Book of Theo van Gogh and Jo van Gogh-Bonger, Leiden & Amsterdam 2002, p. 199, and Vollard Stock book A, 1899–1904, 3,360 ('peinture datée de 1879 bords de Seine […] 50 × 81 cm). Ambroise Vollard Records [uq9kofqj], The Wildenstein Plattner Institute, Inc., New York. Guillaumin is not known to have ever owned an Alpilles painting.
Incidentally, Theo not only bought pieces by Guillaumin for his own collection but would also start to deal in them.See the Introductory Essay: The Genesis of the Collection of Art Assembled by Theo and Vincent van Gogh. Vincent also played a role in promoting Guillaumin, teaming up with Theo to successfully pique the interest of the Scottish dealer Alexander Reid (1854–1928) and the Australian artist John Peter Russell (1858–1930) in Guillaumin's work.Vincent van Gogh, letter to Theo van Gogh, 1 April 1888 [591]; Vincent van Gogh, letter to Theo van Gogh, 3 April 1888 [592]. In his letters, Van Gogh voiced his outrage that Reid had underpaid for Guillaumin's work. Another letter reveals that Russell had bought a work by Guillaumin; however it is not clear which one, see Vincent van Gogh, letter to Theo van Gogh, 1 May 1888 [602].
Modern portrait
Portraiture occupies a relatively minor place within Guillaumin's painted oeuvre, as he primarily focussed on landscapes and cityscapes.Guillaumin participated in 1874, 1877, 1880, 1881, 1882, and 1886. Of the 100 or so works he exhibited over the years, less than 20% were portraits or figure pieces (often in pastel). See Musée d'Orsay, La base Salons, accessed 18 August 2022. If he did venture figure pieces or portraits, they were mostly of his wife, their children or himself.Fabiani and Serret 1971, nos. 1-195, n.p. Therefore, the fact that the Van Gogh brothers bought two portraits by Guillaumin speaks more to Vincent's personal artistic aspiration for modern portraiture than to Guillaumin's prominence in this particular genre. In September 1889, Van Gogh wrote to Theo: 'Afterwards, what are we beginning to glimpse timidly at the moment that is original and lasting – the portrait. That's something old, one might say – but it's also brand new. We'll talk more about this – but let's still continue to seek out portraits, above all of artists, like the Guillaumin and Guillaumin's portrait of a young girl, and take good care of my portrait by Russell, which means a lot to me.'Vincent, letter to Theo van Gogh, Saint-Rémy-de-Provence, 5 and 6 September 1889 [800]: 'Après, actuellement qu'est ce que nous commençons timidement à entrevoir d'original et de durable – le portrait. c'est du vieux ça, peut-on dire – mais c'est aussi très-neuf. Nous causerons encore de cela – mais continuons toujours à rechercher des portraits, surtout d'artistes, tel le Guillaumin et le portrait de jeune fille de Guillaumin et garde bien mon portrait par Russell auquel je tiens tant.' For Van Gogh, the portrait was a cornerstone of modern painting. He not only painted and drew numerous self-portraits, he also collected portraits by other artists, such as Gauguin, Emile Bernard (1868–1941) and Russell.See the entries on Gauguin's Self-Portrait with Portrait of Emile Bernard (Les misérables), Bernard's Self-Portrait with Portrait of Gauguin and Russell's Portrait of Vincent van Gogh.
In a letter to his sister Willemien van Gogh, also from dating to September 1889, Van Gogh wrote: 'Did you see at Theo's the portrait of the painter Guillaumin and the portrait of a young woman by the same? That really gives an idea of what one is searching for. When Guillaumin exhibited his portrait, public and artists laughed at it a great deal, and yet it's one of the rare things that would hold up alongside even the old Dutchmen Rembrandt and Hals.'Vincent van Gogh, letter to Willemien van Gogh, 19 September 1889 [804]: 'As tu vu chez Theo le portrait du peintre Guillaumin et le portrait de jeune femme par le même. Cela donne bien une idee de ce que l'on cherche. Lorsque Guillaumin exposait son portrait, public et artistes en ont beaucoup ri, et cependant c'est u une des chôses rares qui se tiendraient à côté des vieux Hollandais Rembrandt et Hals mêmes.' Vincent's description does suggest that he had seen Guillaumin's self-portrait with his own eyes. This would mean that he would have seen it before he left for Arles on 19 February 1888, thus it might have entered Theo and Vincent's collection before then. Van Gogh frequently referred to Rembrandt van Rijn (1606–1669) and Frans Hals (1582–1666) as the true masters of portraiture, considering their work as the benchmarks of excellence in this genre. Interestingly, in 1880 the critic Paul de Charry also made a comparison between Guillaumin and Rembrandt, albeit his tone was less complimentary: 'we will forget the portraits by Rembrandt and become ecstatic before those by Mr Guillaumin […]. With a profusion of blue, red, and green, Mr Guillaumin gives us a series of paintings as impressionistic as possible. Among them is a portrait of the painter, who in a moment of distraction, no doubt while seeking inspiration, violently applied his newly prepared palette to his face. He was stunned and shared his amazement with the public.'Paul de Charry, 'Le Salon de 1880: préface: les impressionnistes', Le Pays (10 April 1880): 'nous oublierons les portraits de Rembrandt pour nous extasier devant ceux de M. Guillaumin […]. M. Guillaumin nous donne, avec une grande quantité de bleu, de rouge et de vert, une série de tableaux aussi impressionnistes que possible. Il s'y trouve, entre autres, le portrait d'un peintre qui, dans un moment de distraction, sans doute en cherchant une idée, s'est violemment appliqué sa palette, nouvellement faite, sur le visage. Il en est abasourdi et communique sa stupéfaction au public.'
Charry's critique of Guillaumin's portraits mainly centred on the artist's bold and unconventional use of colour. Other critics also disparaged the colours in Guillaumin's self-portrait. Armand Silvestre (1837–1901), an important writer of the time, went so far as to describe the work as 'nothing short of monstrous', and the Paris-Journal spoke of 'a gentleman who has fallen on his palette and glares at the viewer, who is stunned to see so many reds, greens, blues, violets, and yellows grouped together on a single surface'.Bertall, 'Les indépendants', Paris-Journal (7 April 1880): 'un monsieur qui est tombé le nez sur sa palette et regarde furieux le spectateur, stupéfait de voir se grouper sur un seul visage tant de rouges, de verts, de bleus, de violets et de jaunes'. See Armand Silvestre, 'Le Monde des arts: exposition de la rue des Pyramides (premier article)', La Vie moderne, (24 April 1880), p. 262: 'Mr Guillaumin really fails to sufficiently envelop his monuments and figures in atmosphere. […] The colours are offensively erudite. […] But the Portrait of M.G. (no. 72) is nothing short of monstrous in the sheer brutality of its models spanning a spectrum from one extreme to the other.' ('M. Guillaumin n'enveloppe vraiment pas assez ses monuments et ses figures d'atmosphère. […] Les couleurs sont d'une erudité blessante. […] Mais le Portrait de M.G. (no. 72) est tout simplement monstreux par la brutalité de ses modèles dans une gamme allant aux deux extrêmes.') In his next article, Silvestre again spoke very negatively about Guillaumin: Armand Silvestre, 'Le monde des arts: exposition de la rue des Pyramides (suite et fin)', La Vie moderne (1 May 1880), p. 275: 'I cannot think of anything falser than his Portrait of M.G.' ('Je ne sais rien de plus faux que son Portrait de M.G.') This penchant for using vivid and intense colours extended beyond his portraits and could also be observed in his landscape paintings. Guillaumin's excessive use of pink, purple and blue brushstrokes in his work invited constant criticism. Van Gogh was evidently aware of these harsh reviews from 1880, as indicated in the letter he wrote to Willemien quoted above. Nonetheless, Van Gogh appreciated Guillaumin's portraits for their sincerity and authenticity. He recognized the depth of emotion and feeling ('a thing of feeling') in Guillaumin's work, which he also admired in Rembrandt's portraits and which he himself was seeking as an artist.Vincent van Gogh, letter to Theo van Gogh, 5 and 6 September 1889 [800]; Vincent van Gogh, letter to Willemien van Gogh, 19 September 1889 [804]: 'These portraits, first, are faded more quickly than we ourselves, while the painted portrait remains for many generations. Besides, a painted portrait is a thing of feeling made with love or respect for the being represented. What remains to us of the old Dutchmen? The portraits.' ('Ces portraits-là d'abord sont fanés plus vite que nous mêmes tandis que durant bien des générations le portrait peint reste. Un portrait peint d'ailleurs est une chôse sentie faite avec amour ou respect de l'être représenté. Que nous reste-t-il des vieux Hollandais? les portraits.') Although Guillaumin did not achieve the same level of recognition in art history as some of the prominent impressionist painters, his intense use of colour left a lasting impression on Van Gogh. To Van Gogh, Guillaumin was an inspiring contemporary artist.
Maite van Dijk, Nina Reid and Sara Tas
November 2023