The Portrait of Joseph-Michel Ginoux and Vincent van Gogh Painting Sunflowers are the only oil paintings produced by Paul Gauguin (1848–1903) in Arles that are now in the collection of the Van Gogh Museum. Not only do the two portraits differ considerably in terms of format and degree of finish, they also rest on very different foundations. Whereas Vincent van Gogh Painting Sunflowers is a carefully composed ensemble of elements that combine to evoke the character of Vincent van Gogh (1853–1890), Portrait of Joseph-Michel Ginoux is a straightforward, rapidly painted work. Examination of the build-up of the paint clearly shows that the canvas is unfinished: in the upper right-hand corner, the cream-coloured ground remains visible and is only partially covered with a few swiftly painted, individually distinguishable brushstrokes. The canvas is neither varnished nor relined.With thanks to René Boitelle, paintings conservator Van Gogh Museum, 15 August 2019.
An acquaintance of Van Gogh
While Joseph-Michel Ginoux posed, Gauguin and Van Gogh sat side by side and painted his likeness. Van Gogh's portrait shows Ginoux en face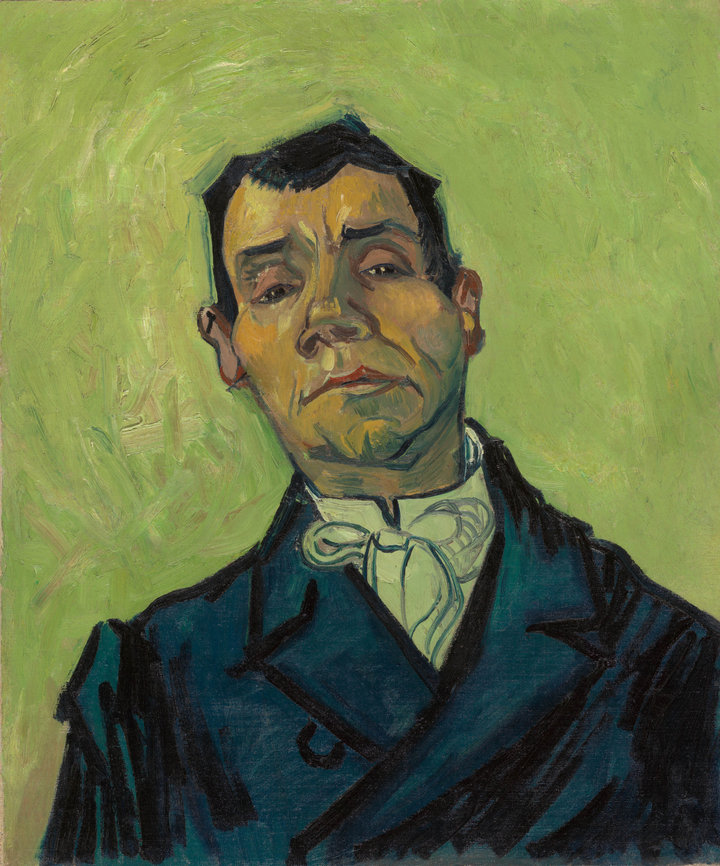 Vincent van Gogh, Portrait of Joseph-Michel Ginoux, 1888, oil on canvas, 65.3 × 54.4 cm, Kröller-Müller Museum, Otterlo. Photo: Rik Klein Gotink, whereas Gauguin portrayed him diagonally from the right. Gauguin must therefore have been sitting to the left of Van Gogh. In both portraits, Ginoux has an air of haughtiness. Leaning his head back slightly but holding himself stiffly upright, he looks down arrogantly, with half-closed eyes, at what is taking place before him. Ginoux's clothing contributes to his supercilious, dandyish appearance. He wears, for example, a double-breasted jacket and a cravat à la Byron.This way of tying a cravat was identified by Carol Zemel in Van Gogh's Progress: Utopia, Modernity, and Late-Nineteenth-Century Art, Berkeley, CA 1997, p. 107. The knot à la Byron is described as a very comfortable way of wearing a cravat that does not constrict the flow of blood to the brain. Lord Byron is said to have worn his cravat this way often, so as not to constrain his creativity. This knot stands for a poetic, intellectual and creative appearance. See Emile de L'Empésé, L'art de mettre sa cravate, Paris 1827, pp. 74–76.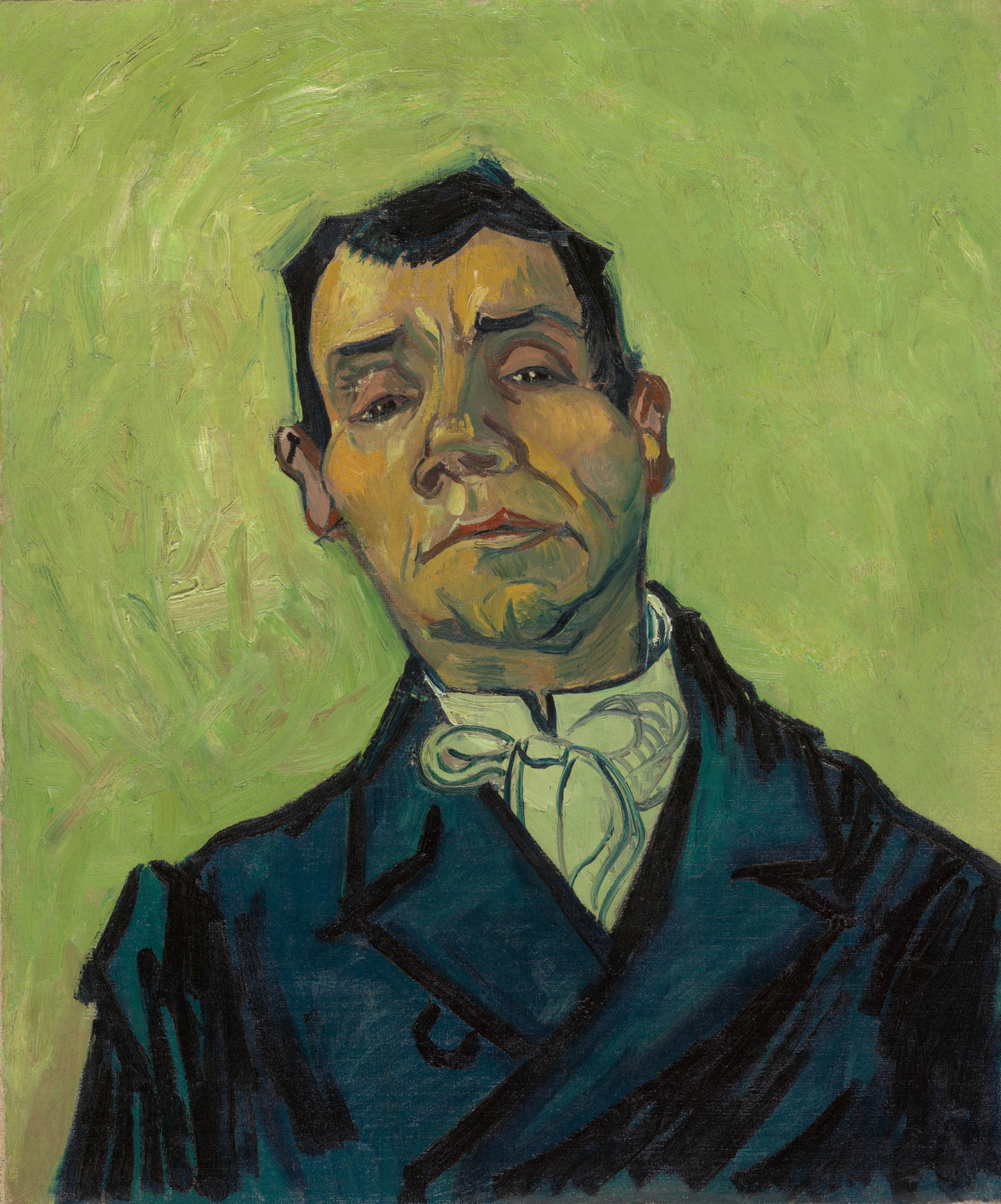 For a long time there was uncertainty as to the identity of the man who sat for these two portraits, which were often referred to as the Portrait of a Man or the Portrait of an Actor.Portrait of an Actor is a descriptive title that Helene Kröller-Müller offhandedly gave the portrait by Van Gogh in a letter to Sam van Deventer. See Jos ten Berge, Teio Meedendorp and Aukje Vergeest, The Paintings of Vincent van Gogh in the Collection of the Kröller-Müller Museum, Otterlo 2003, pp. 258–60. However, Ronald Pickvance identified the model in 1989 as Joseph-Michel Ginoux.Ronald Pickvance, Van Gogh et Arles: exposition du centenaire, exh. cat., Arles (Former Hospital of Arles) 1989, p. 74. In Daniel Wildenstein, Sylvie Crussard and Martine Heudron, Gauguin: premier itinéraire d'un sauvage: catalogue de l'œuvre peint (1873–1888), 2 vols., Milan 2001, vol. 2, p. 550, doubt is cast on the assumption that the sitter is Ginoux because Van Gogh had supposedly portrayed Ginoux with grey hair in Night Café, Arles (1888, Pushkin State Museum of Fine Arts, Moscow). This identification stems from a passage in letter 676, in which Van Gogh designates the man in Night Café, Arles as le patron. However, earlier in the same letter Van Gogh refers to Ginoux as Le Logeur (The Landlord). It is therefore quite possible that le patron is not Ginoux but rather the manager of the establishment. Together with his wife, Marie, Ginoux ran the Café de la Gare on Place Lamartine, at a stone's throw from the Yellow House where Van Gogh and Gauguin lived.Bernadette Murphy, Van Gogh's Ear: The True Story, London 2016, pp. 73–74. Pickvance did not provide conclusive proof of this identification, but considering that the sitters in all the portraits the two artists painted in the autumn of 1888 came from Van Gogh's immediate circle, it is reasonable to assume that the sitter is Ginoux.
During his stay in Arles, Van Gogh became well acquainted with the Ginoux. Before mid-September 1888, when he began to use the Yellow House not only as a studio but also as his living quarters, he had spent five months in lodgings above the Café de la Gare. Moreover, it was the Ginoux who told him about the possibility of renting the Yellow House.Ibid. Van Gogh was very keen to have Marie and Joseph pose in the studio, but he lacked persuasiveness and needed Gauguin's help to make it happen.Douglas W. Druick, Britt Salvesen and Peter Zegers Van Gogh and Gauguin: The Studio of the South, exh. cat., Chicago (Art Institute of Chicago) / Amsterdam (Van Gogh Museum), New York 2001, p. 186. Van Gogh thought himself 'not young or womanizer enough' to persuade women to pose for him for free. See Vincent van Gogh, letter to Emile Bernard, c. 5 October 1888 [698].
Marie's portrait was painted at the beginning of November 1888 but it was probably mid-December before Joseph came to the Yellow House.Druick, Salvesen and Zegers, 2001, p. 244. When Marie Ginoux was sitting for her portrait, it became clear that Gauguin's approach differed from Van Gogh's usual working method. While Van Gogh worked up the portrait with great speed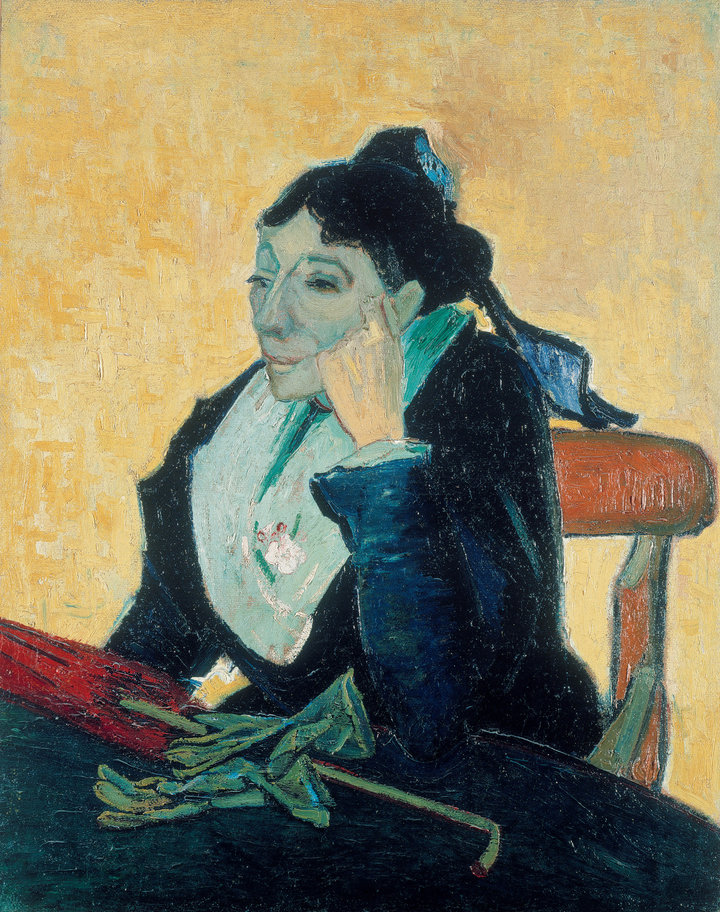 Vincent van Gogh, The Arlésienne, Madame Ginoux with Gloves and Parasol, 1888, oil on canvas, 93 × 74 cm, Musée d'Orsay, Paris. Photo: © RMN-Grand Palais (musée d'Orsay) - © Stéphane Maréchalle, applying his oil paint directly to a large canvas of standard format (figure no. 30, measuring 93 × 74 cm), Gauguin sat intently drawing a portrait study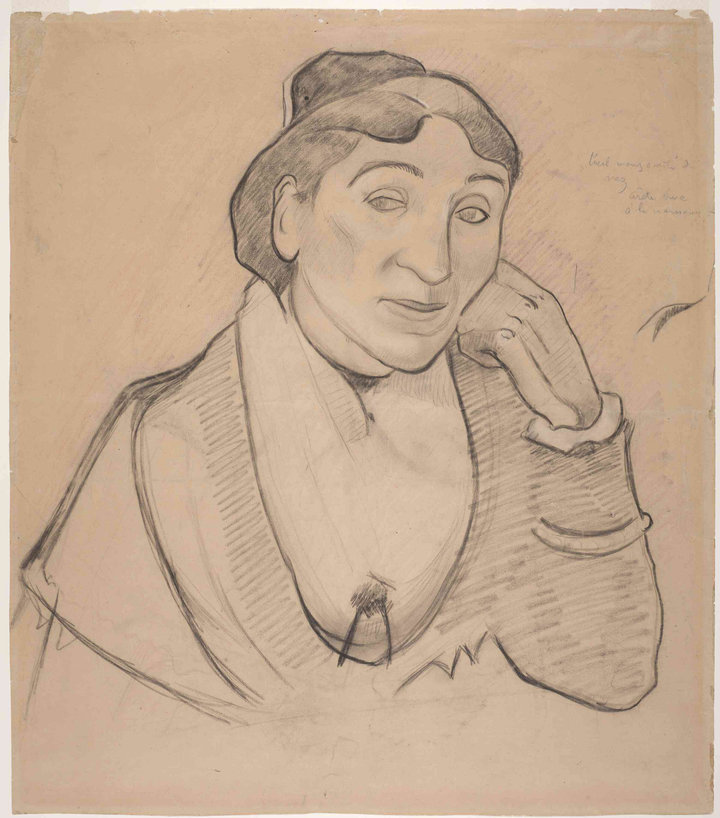 Paul Gauguin, L'Arlésienne (Mme Ginoux, née Marie Julien, 1848–1911), 1888, charcoal and coloured chalk, heightened with white chalk, on wove paper, 56.1 × 49.2 cm, Fine Arts Museums of San Francisco, Memorial gift from Dr. T. Edward and Tullah Hanley, Bradford, Pennsylvania.Van Gogh wrote the following about his portrait of Marie Ginoux: 'Then I have an Arlésienne at last, a figure (no. 30 canvas) knocked off in one hour.' ('Ensuite j'ai enfin une Arlésienne, une figure (toile de 30) sabrée dans une heure.') Vincent Van Gogh, letter to Theo van Gogh, c. 3 November 1888 [717]. He later used this drawing for a more complicated ensemble, Night Café, Arles (1888, Pushkin State Museum of Fine Arts, Moscow). In contrast to Van Gogh, portraying a model was for Gauguin not so much an end in itself as a way of gathering motifs for use in future work.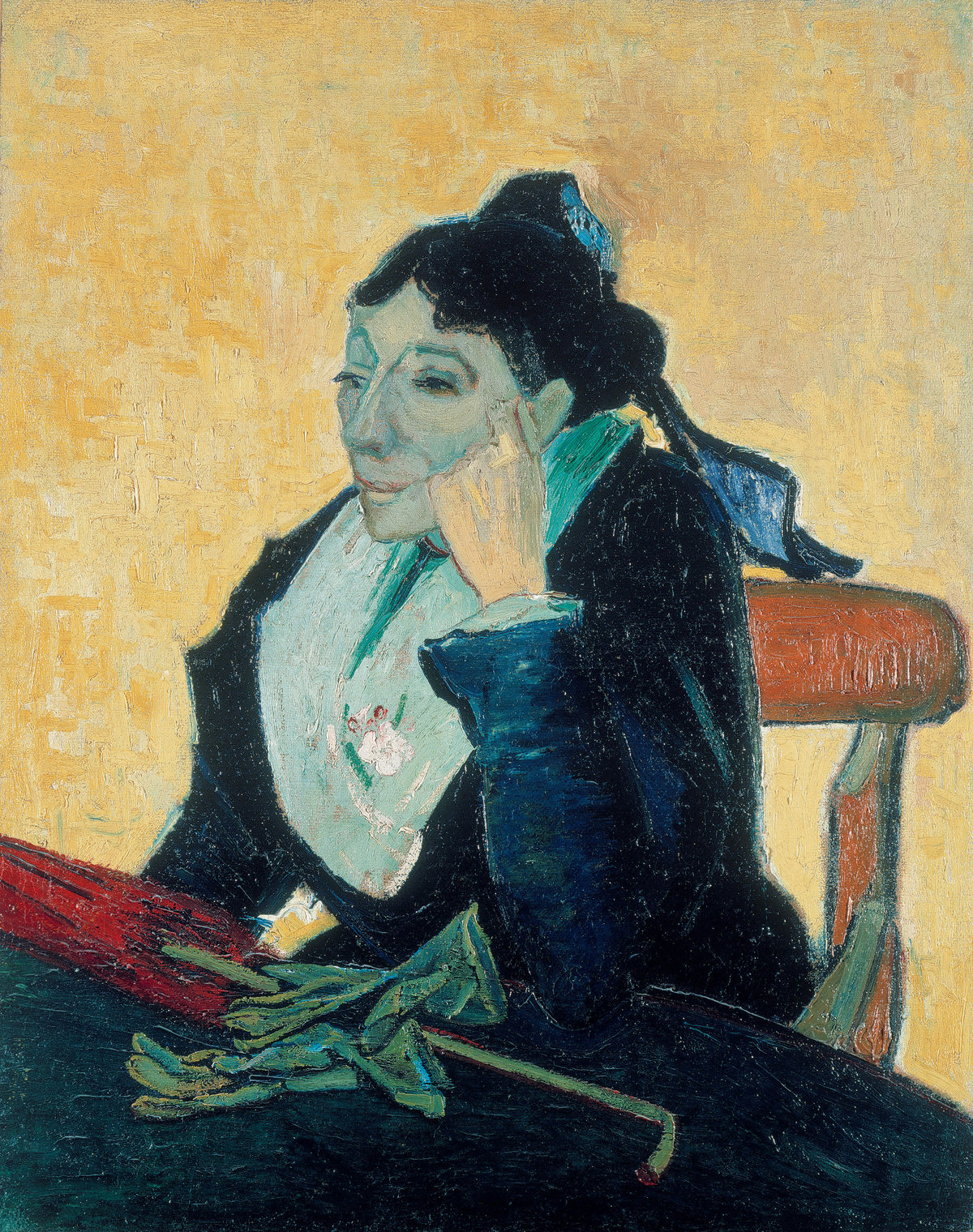 Portrait painting à la Van Gogh
When Joseph-Michel Ginoux came to pose in mid-December, Gauguin decided to adopt Van Gogh's working method for once, so he painted the model directly on the canvas. The naked eye, the stereomicroscope and infrared reflectography have all failed to detect an underdrawing, something that was usually standard practice for Gauguin.It cannot be said for certain that an underdrawing is lacking, considering Gauguin's tendency to neatly trace over underdrawings with diluted blue paint, thereby obscuring the lines. With thanks to René Boitelle, paintings conservator Van Gogh Museum, 7 October 2022. Perhaps Van Gogh had urged him to skip the underdrawing, or perhaps Gauguin did it because he was only a casual participant in this portrait session. Then again, Ginoux might not have had much time, forcing Gauguin to work quickly. First he laid in the model's contours in diluted dark blue paint, whereupon he coloured in the face and the background, wet-in-wet, with what were for him unusually coarse brushstrokes. The background in particular is very coarsely painted, in a way that recalls Van Gogh's manner of painting. Finally, Gauguin used undiluted dark blue paint to go over the most important contours either partly or completely, and to accentuate the eyes and eyebrows.Observations made by René Boitelle, 15 August 2019. This gives the portrait an oddly caricatural appearance. Indeed, the face looks almost like a mask. Around the head Gauguin placed a yellow circle, suggestive of an aureole and comparable to the sun in The Sower
Vincent van Gogh, The Sower, 1888, oil on canvas, 32.5 × 40.3 cm, Van Gogh Museum, Amsterdam (Vincent van Gogh Foundation), which Van Gogh had painted several weeks earlier. Gauguin had initially intended to make the circle bigger, as is apparent from the dark blue vertical lines at the upper edge of the canvas, but in the end he chose this smaller variant.
The background is divided in two by a diagonal line. This was probably a compositional device intended to prevent the background from becoming monochrome, as was the case with the backgrounds in many of Van Gogh's portraits of this period.Gauguin was actually not consistent in this regard during his time in Arles. Portrait of an Old Man with a Stick (1888, Petit Palais – Musée des Beaux-Arts de la Ville de Paris), for example, does have a monochrome background. Moreover, this is the only other work from Gauguin's Arles period that was painted in the same hasty manner. Gauguin adopted a similar strategy in several other portraits that he made in the Yellow House, such as Vincent van Gogh Painting Sunflowers and the Madame Roulin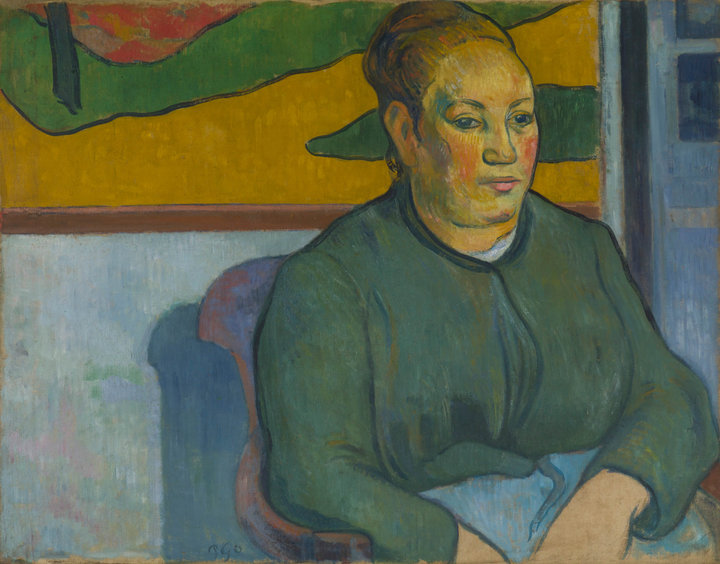 Paul Gauguin, Madame Roulin, 1888, oil on canvas, 50.5× 63.5 cm, Saint Louis Art Museum, Funds given by Mrs Mark C. Steinberg.Druick, Salvesen and Zegers, 2001, p. 229. In these works – just as in the Portrait of Joseph-Michel Ginoux – Gauguin applied light blue below the line and a combination of green and yellow above it. He also used the strong diagonal a year later in the Portrait of Meijer de Haan (1889, Museum of Modern Art, New York). Both Gauguin and Van Gogh used imaginary colours for the backgrounds of the portraits they painted in the Yellow House. Van Gogh had said in a letter to his brother Theo that the interior walls of the Yellow House were white; only one of the portraits Van Gogh painted there has a white background.Vincent van Gogh, letter to Theo van Gogh, c. 13 July 1888 [639]: 'Myself, I work here in a bare interior, 4 white walls and red tiles on the floor.' ('Ici je travaille moi dans un intérieur nu, 4 murs blancs et des pavés rouges par terre.') The only portrait with a white background is The Zouave (1888, private collection).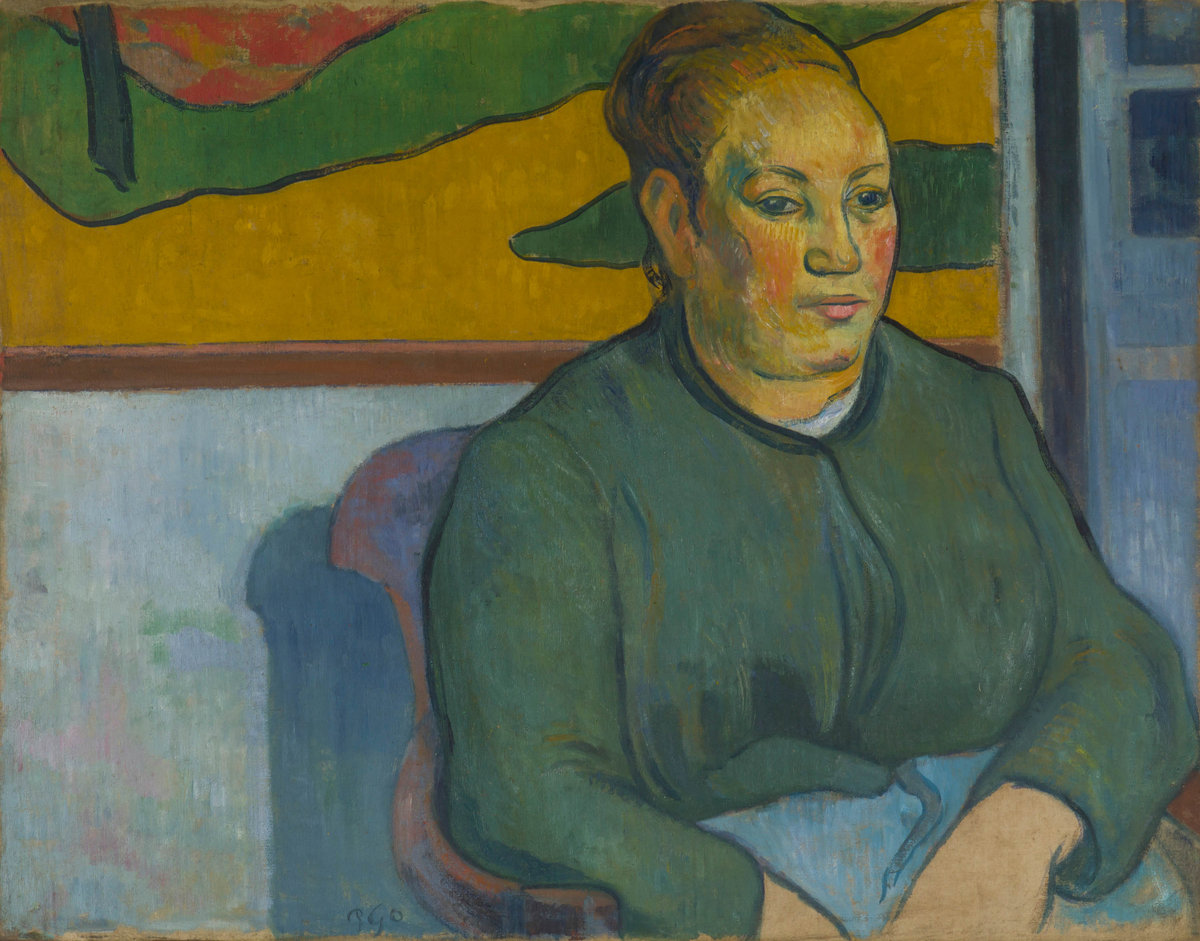 In addition to painting the portrait directly on the canvas, as Van Gogh did, Gauguin also used Van Gogh's more finely woven linen canvas with a commercial ground instead of the coarse jute he used a great deal in Arles.Kristin Hoermann Lister, Cornelia Peres and Inge Fiedler, 'Tracing an Interaction: Supporting Evidence, Experimental Grounds', in Druick and Zegers 2001, p. 356 (Table 1). Gauguin's portrait of Ginoux is, as far as analysis has shown, the only portrait by his hand that seems to have been painted on a piece of linen from that roll. The commercial ground of Van Gogh's and Gauguin's portraits of Ginoux has not been analysed. In all likelihood Van Gogh had received a roll of this linen canvas in mid-November through Theo in Paris, since he used it for such works as the extensive series of portraits of the Roulin family, which he painted in late November and early December.Hoermann Lister, Peres and Fiedler, 2001, p. 363; Vincent van Gogh, letter to Theo van Gogh, 11 or 12 November 1888 [719]: 'The consignment from Tasset arrived the day before yesterday, and we were very pleased with it.' ('L'envoi de Tasset est arrivé avant hier et nous en etions très contents.') The irregular way in which the tacking edges of the unlined canvas were cropped suggests that Gauguin painted this portrait on a support cut from a larger piece of commercial primed canvas: Van Gogh's roll of linen canvas.Discernible on the tacking edge are traces of dark blue paint drips that run to the edge of the canvas. This can happen only if a canvas lies flat when it is painted. With thanks to René Boitelle, paintings conservator Van Gogh Museum, 15 August 2019.
Put aside
Gauguin was presumably dissatisfied with both the direct working method and the linen canvas, because he abandoned the painting before it was finished. The best evidence of this, of course, is the upper right-hand corner, which remained unpainted, but Gauguin's atypical handling of paint is another indication. Whereas Gauguin's finished paintings are often built up of numerous paint layers, painstakingly applied with a view to the end effect, this work has only one layer, which was applied with unusually coarse brushstrokes. Not only does it illustrate Gauguin's hasty and uninspired approach to this work, but it could also be evidence of his impatience and dissatisfaction at having to paint a portrait in this way.After all, Gauguin had told Emile Bernard (1868–1941) several weeks earlier that he wanted nothing to do with impasto. Paul Gauguin, letter to Emile Bernard, third week of November 1888, in Victor Merlhès, Correspondance de Paul Gauguin: documents, témoignages: tome premier, 1873–1888, Paris 1984, no. 182: 'As to the colour, he [Van Gogh] sees the hazards of impasto in Monticelli's [work], and me, I hate fiddling around, fabricating it, etc.' ('Au point de vue de la couleur il voit les hasards de la pate comme chez Monticelli et moi je déteste le tripotage de la facture etc.') The half-hearted execution of this portrait therefore contrasts with Van Gogh's version, which was done with bravura and devotion.
Gauguin did not take this small portrait along when he left Arles, which suggests that he considered it a mere study and did not attach much importance to it. This idea is supported by the fact that the work was never signed, making it one of the three unsigned paintings of the series of seventeen that Gauguin produced in Arles. Shortly before moving to Saint-Rémy, in May 1889, Van Gogh finally put the work in the last large shipment of paintings he sent from Arles to Paris.Vincent van Gogh, letter to Theo van Gogh, 30 April 1889 [765]. The work was never returned to Gauguin. Later he wrote to Van Gogh: 'Don't bother yourself with the studies that I deliberately left in Arles as not being worth the trouble of transporting them.'Paul Gauguin, letter to Vincent Van Gogh, 17 January 1889 [737]: 'Ne vous occupez pas des études que j'ai laissées exprès à Arles comme ne valant pas la peine du transport.' Gauguin used the plural 'studies' (études) because he left several drawings with Van Gogh. See, for example, the Study of a Woman Seen from the Back.
Joost van der Hoeven
March 2023